Sand in my shoes, peeling back the layers.
It could have been any place on earth. It could have been any hillside, rusty brown earth, stones randomly scattered across the flat rectangle of land looking out across the valleys surrounding it, another mountain range beyond the hill to the east.
The breeze was blowing from the west. Sun shining brightly in the clear blue skies.
But this wasn't any random place.
My mind is still trying to wrap itself around this one. I'm listening to the conversations around me. Excitement, reverence, and anticipation.
We switched buses awhile back. We made the final leg of the journey on a "security enhanced" bus.
The scenery became more rural, the town of Ariel left behind, we continued.
And then we arrived in Shiloh.
Our guide greeted us – a very enthusiastic young man. He began telling us about this very ancient, very historic place we were about to enter. Personally, I was grateful for his flip charts.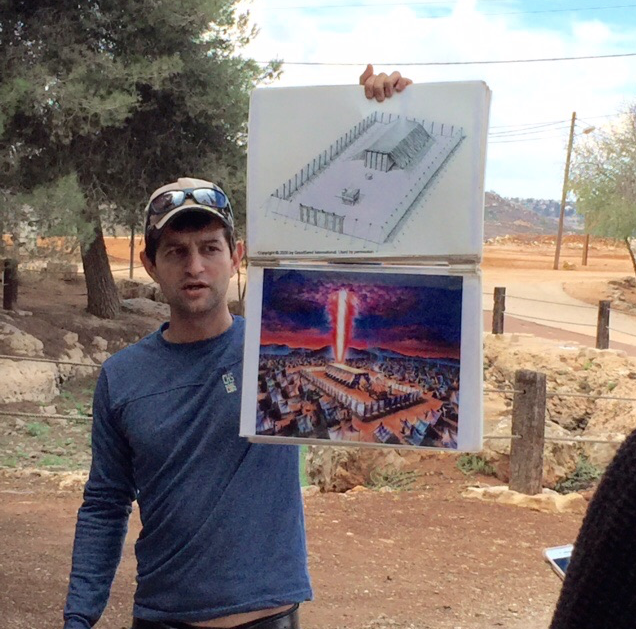 He was extremely enthusiastic about finding the site of the tabernacle. His wife is the head archeologist on the dig.
We headed north toward the site. Along the way we passed an ancient olive press. After our lesson this morning in the Garden of Gethsemane about olives, it was so interesting to see one up close.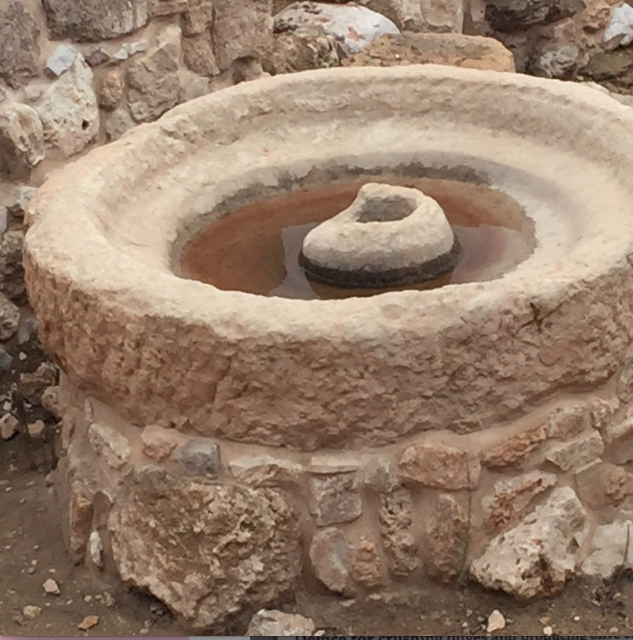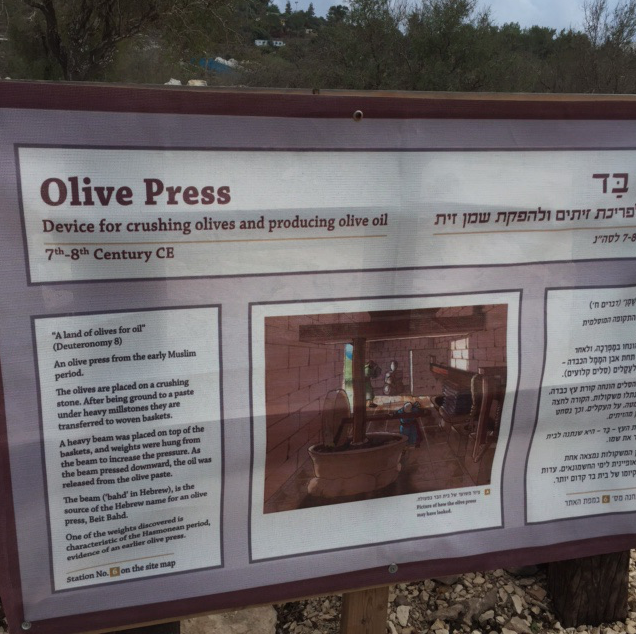 We moved on, stopping at a theatre to watch a short movie describing life in the days of Eli the high priest, Hannah, and Samuel.
The dig site was located below us.
We proceeded to walk down to it and all of a sudden . . .
We were standing on what was once "holy ground" – for 369 years.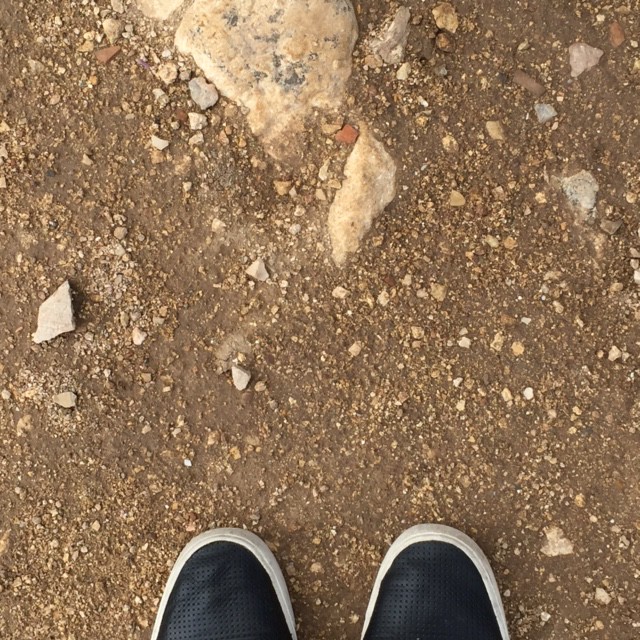 If we had been led to the site by a guide interested in only showing us the dig from an archeological view, it would have been interesting enough. If we had ended up on this field without a guide, it would have been interesting enough.
However, he, like an archeologist, peeled through layer after layer of surface information. He continued digging through story after story and on through the centuries.
And then he spoke of Hannah. I knew this was going to be the best part of the day for me. He had hit pay dirt in my fragile heart.
The story of  Hannah in 1 Samuel 1…
Hannah had been barren for years. Her husband had another wife who had born many children and never missed an opportunity to remind Hannah. One day while they were at the tabernacle in Shiloh, Hannah, anguished over her years of barrenness went to the temple and began praying silently. Eli the priest first thought she was drunk. She explained to him she was only pouring her heart out to God out of her great anguish and grief. Eli sent her off with a word of peace and wishing for God to answer her prayer.
Hannah conceived.
Her prayers were answered, and yet somehow three words are easily overlooked:  In due time found in 1 Samuel 1:20. We must remember:  In due time our prayers will be answered.  May we remain faithful like Hannah.  Diligent.
She never quit praying and believing.
May I have the faith of Hannah.
Our guide wanted to show us one more thing they had found on their dig. Off to the side was a section that was a residence beyond the courtyard outside the walls. As they were excavating, they came across quite a few letters that had been preserved.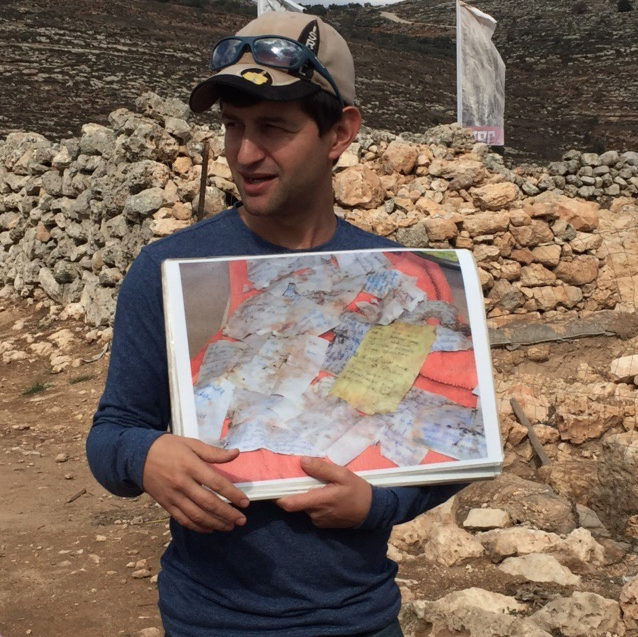 You can see them above. It doesn't take much imagination to visualize the women who wrote them – coming from all over the world to pray in the very place Hannah prayed. To cry their tears of hope because they were in the very place where Hannah found hope. To know how much effort they had to make the journey – to plead with God. To know there were no more layers for them to peel back. To know their faith was safe with God.
Isn't our faith safe with God, too, as we peel back all the debris that would keep us from being bare-hearted open with Him? Can I not have this same relationship with God? I believe we can. I believe God wants us to have it.
How I want to be as strong and diligent and gut honest with God. I want my motives to be true. I want to have the faith of Hannah.
The women who wrote these letters had the faith of Hannah. I wish we had the rest of their stories – I'm curious how their stories ended.
Hannah's concluded as she weaned Samuel and brought him back to the temple, dedicating him to a life of service to the Lord. He became one of Israel's prophets.
Her final gift to us was her prayer of gratitude in 1 Samuel 2. Her prayer included
My heart rejoices in the Lord;
    in the Lord my horn is lifted high.
My mouth boasts over my enemies,
    for I delight in your deliverance.
 "There is no one holy like the Lord;
    there is no one besides you;
    there is no Rock like our God.
We spent a couple hours on this hillside this afternoon. There were only a handful of us scattered around the site. We had some beautiful quiet, reflective time. I struggled to imagine what life was like there in those times. Before the layers of history and time brought them to this place today.
No drama here today. Breezes blowing. Sun shining. Just like it did centuries ago.
As we gathered and walked back up over the hill to return to our "security enhanced" bus, each one of us turned and looked back one last time before this place disappeared from our sight.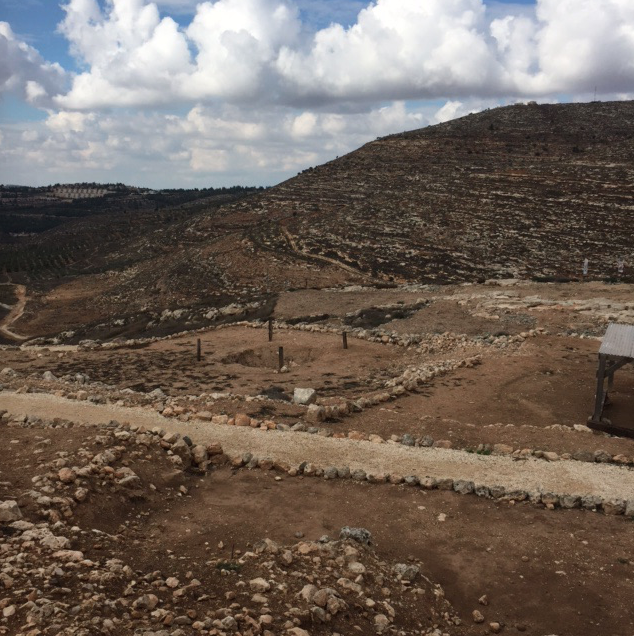 I pray one day I will return. I pray I will never forget the lessons Hannah taught me here today.
We are all standing in different places. Never will any of us stand in the same place at the same time. Our stories are unique.
Embrace your uniqueness. Trust God with your deepest, anguishing pleas for Him to enter your life and bind your pain and hold you close.
May we always remember Hannah.
{More posts from the Holy Land}
Walking in His Steps: A Trip to Israel
Dormition Abbey:  Visiting the Holy Land
Carrying Your Prayers to the Wall: Visiting the Holy Land