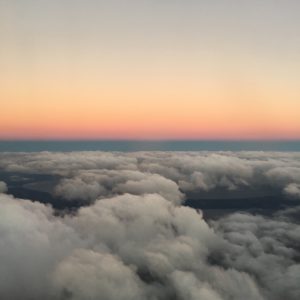 Climbing through the clouds early one morning on a short flight to Houston, the pilot announced we were heading to 23,000 ft. We passed through the final layers and burst into the clear air above. The blueish horizon of clouds lay just beneath the line giving a clue to where the sun was about to make its appearance. I should be asleep, it's been a crazy few days, but the beauty up here this morning is far more interesting. It seems to be a reflection of my own life these days.
It was good – those years raising our kids and life as a family. But when Life changed like it did, it was hard to see The Good. The Beauty faded from me. Days seemed gray and the air hazy. Nothing was clear.
At a point, I made the decision to begin a journey destined to discover The Beauty I knew had to be out there. Falling back to remnants of childhood faith I had relied on in my past, what I knew must have a grain of truth buried in them, the adventure began.
There are a thousand stories to be told about that journey, but this morning I want to jump forward about a dozen years. Yes, a dozen.
I want to talk about the descent into The Gray and the ascent into The Blue.
About the motion of Life. It's easy when Life is on an even keel. But from nowhere that can change dramatically and drastically. I never anticipated what that would be for me. Ever. Never imagined it.
I learned I could exist in The Gray. Life went on. Life happened.
But there was something missing and that hole in me seemed to be outgrowing – me.
This Janet – she was about to disappear.
But leaning on the God I knew existed, I was determined to survive. Even though my marriage had failed and with it my life I had put so much confidence in. Many relationships had changed, yet my determination to overcome attached itself to God. I wanted to know what He planned to do about my mess.
The descent slowed and came to a halt. And I began a long – very long – ascent  that would lead me to those answers.
But first, I became a seeker.
This is what I can testify to – this is the truth I know to be true. There were long periods of time when I doubted – or lived in The Gray – when my vision was clouded.
There are many more stories to be shared and yours will begin to evolve as you turn your focus upward in your quest for truth and a clear vision.
Today can be the day of new beginning.
This is the place to start. Ask God.
This is the time to start. Today.
Look at the scriptures that tell us He is waiting for us.
Isaiah 30:18  Therefore the Lord waits for you to come to Him so He can show you His love and compassion. For the LORD is a faithful God. Blessed are those who wait for His help.
Lamentations 3:25 The LORD is good to those who wait for Him, to the soul who seeks Him.
Micah 7:7 But as for me, I will look to the LORD; I will wait for the God of my salvation; my God will hear me. 
These are only a few of my favorite verses reminding me God is ready – when I am. The last three words are key – "when I am".
So get busy today. Begin some good soul searching. Decide for yourself if you are in living in the descent of The Gray – barely existing.  If you are ready to begin the ascent into The Blue, seeking God, tell Him. Ask Him to guide you to what you need to do next. Let God know you are ready to discover what's next – that you want to thrive – not just survive.
He's waiting.
On you.
"Lord, we struggle with life. We feel the loss of clarity and purpose we once thought we had but now realize it was built on the world's promises. Please God, step into the middle of our gray space and lift us to the place of clarity and purpose with a foundation built on You. We hear Your promises. We are ready to live what is left of our lives in Your presence. Thank You for Grace. Thank You for redemption. Thank You for forgiveness. Amen."