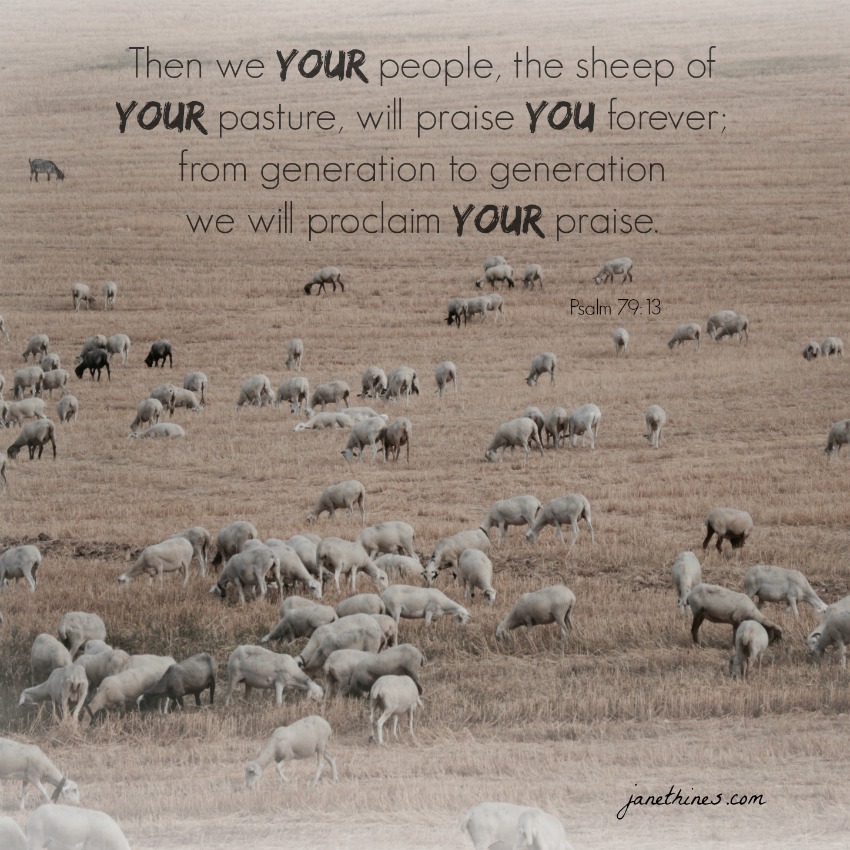 I took this picture in Spain while driving from Antequera to Malaga. It took my breath away.
Pulling over, rolling my window down – my breath stilled, my heart overwhelmed. Many of the sheep in the pasture had bells around their necks – there were probably a thousand sheep . . .
. . .  and the sound was one of the most beautiful, spiritual sounds ever filling my ears, moving into my heart, my breath slowing in an attempt to match the rhythm.
The sheep farmers put the bells on many of the older sheep to ward off predators. If the shepherd hears the bells ringing loudly, they know danger is present.  As the anxiety of the sheep increases so does their movement.  The tone of the bell changes. It serves as an alarm.
The shepherds then know their sheep need them.
Yet, when all is well and every sheep is calm, the beautiful music fills the air.
Isn't it like that when we live with God as our Shepherd?
He is ever present. Always caring for us as the shepherds care for their sheep, yet not always visible. Always ready to protect us and enable us with the means to sound alarm.
May our times of peace be as music to His ears just as this flock filled my ears that afternoon on a quiet road in Spain – yet I know our cries in distress are precious to Him as well as we turn to Him. He takes my good and my bad – my times that are easy and my times of tragedy and crisis – He takes me just as I am.
Just as when I was a child, learning about God and who I was to Him, I always want to remember what it is like to be loved by Him.
One of the first images I have of my personal relationship with God as a young child is of Him as my shepherd. In our old country church, there was an oil painting hanging on the wall, always distracting me during the sermons which were long for this young mind. Jesus was holding a lamb with the most tender, loving, and compassionate look on his face as the lamb laid his head on Jesus' shoulder. The lamb was still. It was no stranger to this shepherd.
That picture has remained a part of my memory, though buried beneath a lot of life that has since happened. It is evidence of the thread that has woven itself through every part of my life. The thread representing Jesus.
Growing up on a farm, our next farm neighbors raised sheep. Many times in the spring, as the lambs were being born, Dad would receive a call asking if we would care for a twin whose mother was unable to produce enough milk to raise two healthy lambs.
We would get this tiny newborn and it lived in the house in a cardboard box with a heat lamp. Our duty was to feed it from a bottle and get it past its critical newborn days. We always received the runt of the two – the smallest with the least chance of surviving. Naming it came next. Feeding it milk regularly – with five of us taking turns –  was my first experience providing nourishment to another living thing. Realizing it's survival depended wholly on us feeding it – hmm – rather like my spiritual survival depends on being fed by Jesus – was a valuable lesson in responsibility.
We became their shepherd. They depended on us for their very survival. They didn't always survive but we provided our best humanly possible care for them.
Our lives as Christians deepen with experience, study, and a desire to know our shepherd, Jesus. We have to spend time with Him in prayer. We have to know Him before we can trust Him as our Shepherd – our Savior.
Below are a few of the many scriptures found in the Bible that talk about the shepherd's relationship with his sheep.
Psalm 95:7 For He is our God, and we are the people of His pasture and the sheep of His hand today if you would hear His voice.
Ezekiel 34:31 "As for you, My sheep, the sheep of My pasture, you are men, and I am your God," declares the Lord GOD.
Psalm 23:2-3 He makes me lie down in green pastures; He leads me beside quiet waters. He restores my soul; He guides me in the paths of righteousness for His name's sake.
Isaiah 53:6 All of us like sheep have gone astray, each of us has turned to his own way; but the LORD has caused the iniquity of us all to fall on Him.
Just as the image of Jesus holding the lamb in His protective arms stays in my mind, I can certainly look back over my life and recognize the many times I know He was there for me as well.
And. . . I know without a doubt – He will be there for me – through every storm, every threat of danger and He will always be listening for my heartbeat to match His – for my spirit to lay in His arms as my loving Shepherd.