For our Monday update from the world of Aria comes this great pic of her running with her cousin Louie.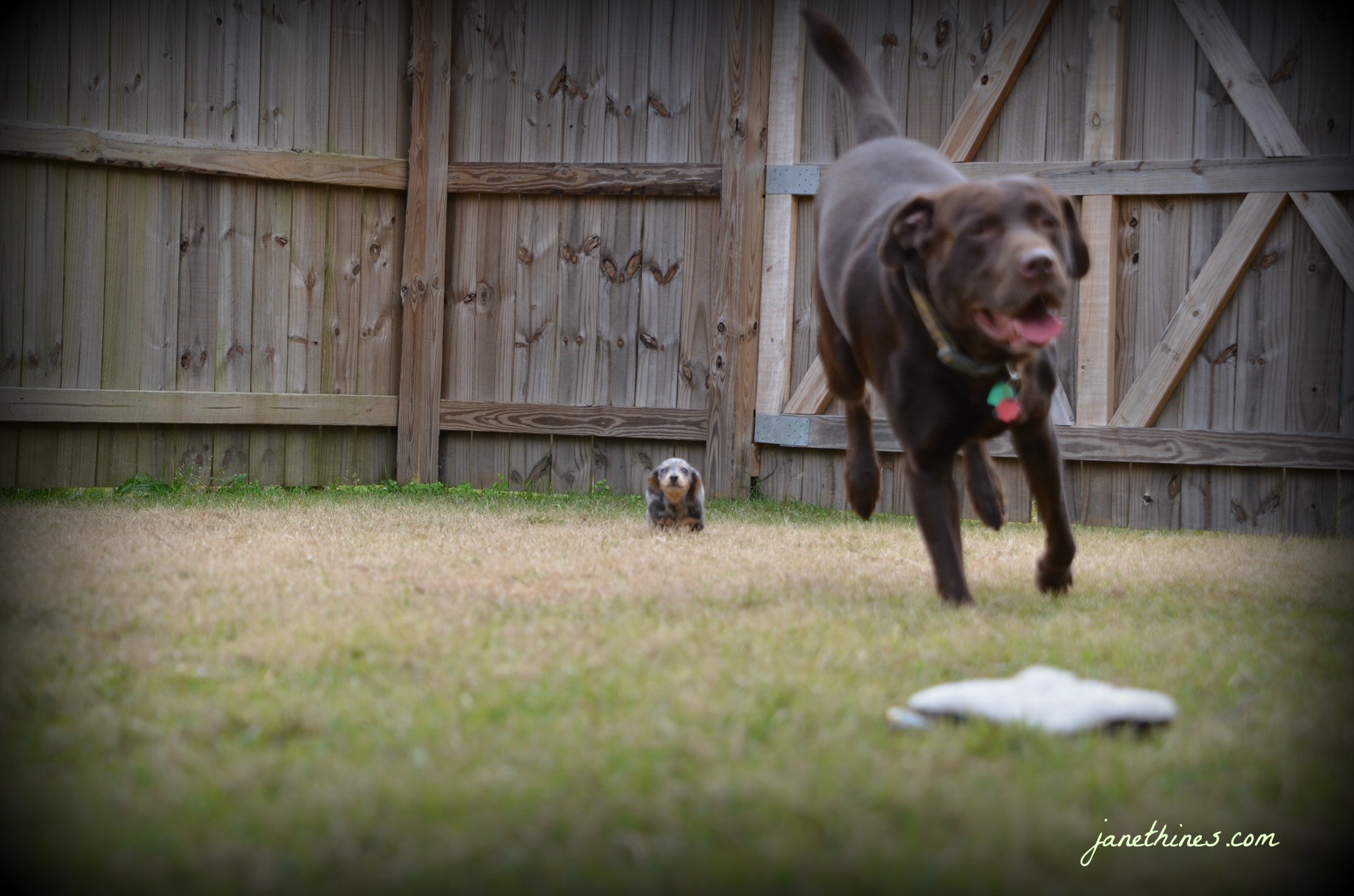 I think she just redefined the meaning of running with the big dogs.
My son, Jonathan, took this pic of them. It is ridiculously cute. How does she have the courage to do that?
She is running fearlessly – with everything she has to give.
I want to do that – to have that kind of courage – to run fearlessly, boldly – to not be intimidated or think I can't keep up – so why even try.
To run like that – notice she is only looking straight at the goal – Jonathan – who had called them from the corner of his yard – to reach him even if it took her longer to get there than it did Louie. She wasn't looking around at what was going on around her. She didn't stop to think how unlikely it was that she would get there before the big dog – so why even try.
She had one goal – to get there.
So this week – I am going to focus on my life goal – to run this race called life – to run it without distraction – to quit looking around to see what everyone else is doing and set my eyes ahead and give life all I've got.
I'm not going to sit down and wonder if or analyze how it is possible before I even begin the run – I am going to rely on the faith and trust I have in knowing God promises me He will always give me what I need to cross the finish line and cross it strong – and know the prize is eternity with Him.
Philippians 3:12-17 I'm not saying that I have this all together, that I have it made. But I am well on my way, reaching out for Christ, who has so wondrously reached out for me. Friends, don't get me wrong; By no means do I count myself an expert in all of this, but I've got my eye on the goal, where God is beckoning us onward – to Jesus. I'm off and running, and I'm not turning back. So let's keep focused on that goal, those of us who want everything God has for us. If any of you have something else in mind, something less than total commitment, God will clear your blurred vision – you'll see it yet! Now that we are on the right track, let's stay on it. Stick with me, friends. Keep track of those you see running this same course, headed for this same goal. The Message
"Lord, give us the courage – again – to lay it all down and just run. To keep our eyes focused on you as we hear you call our name. Just run fearlessly to the finish line where you stand for eternity. Amen"