It is now Thursday of a week that has been chaotic – mostly in my head. Not so much anything external I can put my finger on. Just a whole lot of activity swirling around in my head- like a tornado.  I feel like a tiny little protester begging it to stop.
Sound familiar in any way?
While running errands Monday morning, I knew I needed to get gas but something more urgent seemed to be really bossy in my head and kept pushing that to the back of the line.
Seriously y'all – I must have driven past a dozen gas stations, knowing I needed to get gas and in my distraction kept driving.
Finally, I pushed that button that tells you how much further the gas in the tank will carry you – and this is what I saw . . .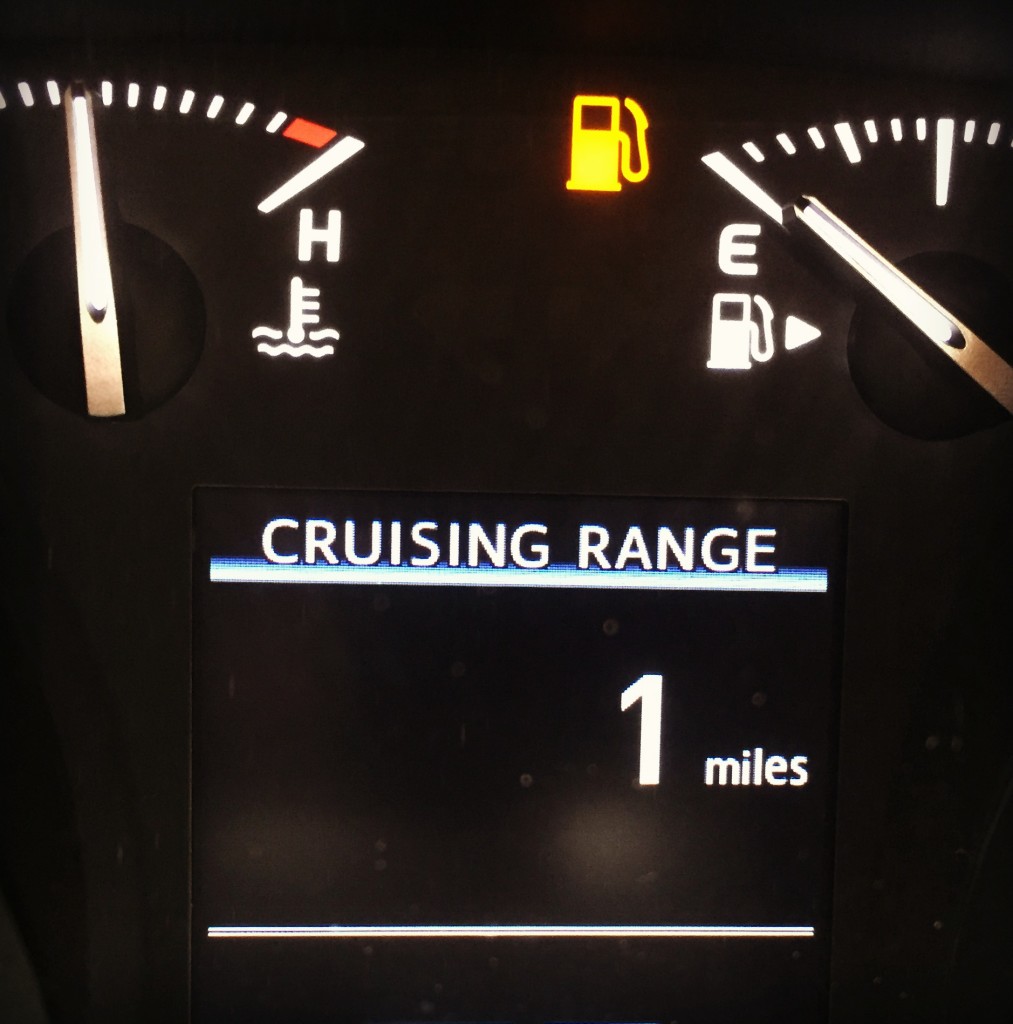 Now it had my attention.  Gratefully, there was a gas station up ahead.  Disaster averted.
I have never done that before – ignored the obvious – my car wasn't going anywhere without fuel.
But, it got me to thinking.  This is exactly what is going on inside me:  I am running on empty.
Anyone willing to admit they have ever been in that boat? You can raise your hand or nod your head – no one is going to know –  and smile – I get it.
As I examined the "things" swirling around in my head, I began to see a pattern.
Struggle with conversations I've found myself in lately. This whole politically correctness culture that is engulfing us, causing us to constantly decide how to say what we want to say – how to say it in the love of Jesus – focus, focus, focus.  Along with feelings stuck on repeat – constantly replaying the doubt of me being able to engage in a way that reflects  Jesus – focus, focus, focus.  Relationships struggling as I look at people I have known most of my life and wondering who I am to them – and doubting myself.  This feeling of helplessness and confusion sucking me up into this tornado in my head.
Yet, applying all I have learned and what I do know to be truth, it becomes evident to me in my busyness I have neglected to fill myself up with time with God, time in prayer and study. I have let my spiritual tank run out -dry-empty.
God has always revealed to me places deep inside that I need to focus on. But I had to/have to slow down first. It's about landing each of those thoughts in my head and discarding the ones meant to distract me as lies. Taking the ones that are high priority and real and focusing on making peace with them. I have learned that confusion does not come from God. God wants me to lean into Him – on Him – just like a Father who deeply loves His child. It's a longing deep in each of us – a seed He planted in us when He created us.
So, today, I am going to reject the tornado as it attempts to reignite its destruction as the heat of the day's struggles and obstacles threaten to unleash their crud all over me.
Today, I want to refuel.  I want to lean on God.  I want to remember to pray constantly.  I want to know I don't have to do it alone – the walk with God leaves me with a perpetually full tank. I can always find Him. No matter what desert I am traveling through – He is always there.
I want to lay all the pieces of that tornado down at His feet, in His ever-present, ever-waiting and available arms.
It is too heavy for me, and it can suck me up into the vortex that becomes part of the destruction  in my world.
I don't want to be Janet the destroyer – I want to be Janet the sharer of grace and gratitude for all good things God has filled me up with.
Today – now Monday, October 26, 2015 – I am leaving on a plane that will carry me across the Atlantic and set my feet  in a land far away. This is my second trip to Israel. It is coming at the perfect time as I can step out of my beautiful life of chaos and take some alone time with a group as we study our way through the next ten days. To say I am anticipating seeing God in new ways and new friends is an understatement.
I will leave Israel to join some friends in India, working to provide medical care. These next 20 days will be full. Then I come home and turn 60. (happy face here) Isn't God incredibly amazing?
This scripture came to mind this morning and made me smile as I realize even in my emptiness I'm going to be better than good.
1 Corinthians 2:9 However, as it is written: "No eye has seen, no ear has heard, no mind has conceived what God has prepared for those who love him"
I invite you to join me on my journey. You can follow me on Instagram at jlikestogo. On Facebook at my page -Janet Hines.  I'll be posting pictures from both Israel and India along with snippets of what God's teaching me.  I hope to talk with you there!