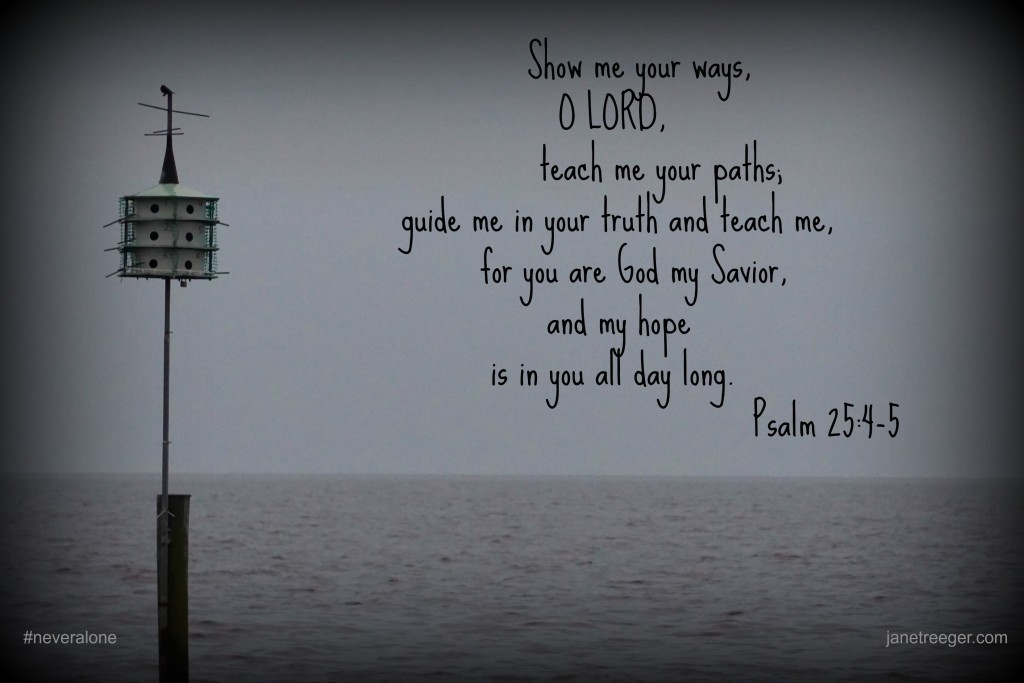 Most of us remember the movie Jerry Maguire that made popular the phrase "show me the money." As humans we share the deep desire to see something before we believe it is true. We require proof and even then often find ourselves skeptical. Why is that?
Proof.
Hmmmm…
Our parents love, friendships, marriages, children, churches – even down to our government and our jobs – beg proof to make these relationships real and true to us. Don't tell me you love me – let me see it in your actions – show me.
And sometimes we become skeptical because of life happening and the most skepticism falls over our relationship with God.
Often we become comfortable in our lives and settle into patterns that, in fact, cause us to drift away from truths.
Is it because the truth seems a little scary? If we refuse to acknowledge it – doesn't that make it not real?
Looking back on the few years before my divorce, I can see red flags I missed. Not all of them – no. Yet drifting, broken myself after the trauma of Katrina in my life – I was director of two relief organizations for a year and a half and it consumed many of us – emotionally, physically and spiritually – the ability to be a seeker of truth faded.
Emotionally I was completely broken.
But now five years since the divorce was final – and almost ten years after Katrina – I find myself still distracted at times, yet struggling for truth – diligently becoming a seeker.
It's a hard day when you look  in the mirror and ask yourself what was real. Was any of it ever real? EVER?
Well, I know that much of it was, but when Satan gets his hands on those thoughts and turns them into skepticism, doubt, fear, anger and sadness, they spin around and around inside me like a fierce tornado of destruction.
Doubt is powerful. Fear is relentless. Anger becomes all consuming. Sadness like quicksand. Skepticism turns bitter.
These are the enemies of trust. The enemies of love. The enemies of all that is good.
Does it make me a skeptic – a doubter – of God's love for me? Have you ever felt so alone that your doubt convinced you even God has left? Worthlessness and the other lies Satan fills our heads with consume us and in our black hole, we become prisoners unable to believe we are worthy of anyone's love or even worse:  unable to believe God is near.
There is no light. No hope. No trust.
And yet when I look around,  the rest of the world is happy – life continues – and I realize it is up to me to decide how I will participate in this journey the rest of my days.
And I feel God as though He is holding out His hand to me – a presence first felt inside me like a tiny spark – the one He put there when He created me.  As the flame is growing, the Light gets stronger. He is that Light.
I talk to Him – hesitantly at first – but in this relationship that is new and different than any I have had with God before, I see Him in different ways.
Opening my bible I get back into His word and I discover truths that  never had a deep meaning to me before. I never really understood doubt before. I'm now the victim of life -after doubt made me  question all I had ever believed to be true. But we are the victims of circumstances – many times of choices others made. Yet, I choose not to live my life as a victim, but in victory! We are receivers of His grace in powerful ways. The greatest victory of all happened that third day when Jesus left the tomb.
Yet, please hear me:  I live a life of gratitude these days.  I have seen God's truths take root in my broken soul and become my reality. I know He means EVERY single word written in the Bible.
The journey of doubt is one of darkness – one of suffering – one of pain, loss, betrayal and grief.
It's not just about divorce.   It's about death. It's about terrible illnesses  and tragic accidents.  It's about loss of relationships in our families, in our work, in our ministries,  and in our churches.  Satan uses these struggles to cause us to doubt – again – what a powerful tool.
One of my favorite stories about doubt is told in the book of John. Thomas' story wrote him in history as the doubter. The most beautiful part of his story is the moment Jesus took his doubt away. Listen carefully to the transition of his heart in John 20: 24-31 from the Message paraphrase:
But Thomas, sometimes called the Twin, one of the Twelve, was not with them when Jesus came. The other disciples told him, "We saw the Master."  But he said, "Unless I see the nail holes in his hands, put my finger in the nail holes, and stick my hand in his side, I won't believe it."
Eight days later, his disciples were again in the room. This time Thomas was with them. Jesus came through the locked doors, stood among them, and said, "Peace to you."  Then he focused his attention on Thomas. "Take your finger and examine my hands. Take your hand and stick it in my side. Don't be unbelieving. Believe."
Thomas said, "My Master! My God!"
Jesus said, "So, you believe because you've seen with your own eyes. Even better blessings are in store for those who believe without seeing."
It is easy for us to be convinced these scriptures are old and have become irrelevant in our lives today.
Not much makes me sadder.
The word of God is alive – it is real – it is most certainly relevant – I see it relate to every area of my life over and over again. The more I study the quicker I am able to apply the principals of scripture to me.
I ask God – first!
The minute I feel that seed of doubt begin to sprout in my heart, that is when I have to remember to hit my knees and ask God to reveal the source of it, identify and rip it – along with all its roots – right out of me and to plant in me a spirit of belief, trust, hope, and joy.
And I am here to promise you – He will!
So many times I struggle with the desperate need to understand situations unfolding all around me. It's definitely a weakness of mine and Satan uses it to keep me off balance.
I know I will never figure this all out and not have to worry about it again. The tactics of Satan are constantly changing as he uses new situations to unsettle me and attempt to plant once more that seed of doubt in my heart. It might be a conversation gone bad with a loved one. It might be an unexpected, bad decision a loved one makes. It can be a division in ministry or a phone call that changes my whole life. Illness and accidents can change every face of our life as we know it.
It is all hard.
Remember always – immediately – go straight to God with it.  Many times we can't even put our finger on "it," but I have even learned to ask God to show me what "it" is. Learn to trust God with all the "its" that hit your radar. Know God can handle any "it" that comes our way.
The very last part of Jesus' words to Thomas refer to believing because you have seen.  I am grateful, for Jesus also tells us we are blessed because we believe without seeing.
And that's  my final thought for today:   I can believe without having put my finger in Jesus' hands or my hand in His side.  I can believe because I constantly see Jesus at work in me, around me, and in this world every day.
Join me in this quest of discovery.  Be bold. Together let's become true seekers.  Seekers of the Great God who created us with so much love.
My focus of worship this week:
Music:  Casting Crowns – "Praise You In The Storm"
This song came out shortly after Katrina left New Orleans. I have no idea how many times I have sung along with it – sometimes at the top of my lungs,  trying my hardest to drive out the images in my mind of the wrath, of the power, and of the destruction. Many times my voice was silent and my tears were the only part of me in motion.
Later, it was for the wrath of the storm in my heart. My comfort came, and I learned that when destruction enters my life again in the future, I will claim these same promises of my God, my Savior, my Comforter,  my Source of hope and love.
I was sure by now
God You would have reached down
And wiped our tears away
Stepped in and saved the day
But once again, I say "Amen", and it's still raining
As the thunder rolls
I barely hear Your whisper through the rain
"I'm with you"
And as Your mercy falls
I raise my hands and praise the God who gives
And takes away
[Chorus:]
And I'll praise You in this storm
And I will lift my hands
For You are who You are
No matter where I am
And every tear I've cried
You hold in Your hand
You never left my side
And though my heart is torn
I will praise You in this storm
I remember when
I stumbled in the wind
You heard my cry to you
And you raised me up again
My strength is almost gone
How can I carry on
If I can't find You
But as the thunder rolls
I barely hear You whisper through the rain
"I'm with you"
And as Your mercy falls
I raise my hands and praise the God who gives
And takes away
[Chorus]
I lift my eyes unto the hills
Where does my help come from?
My help comes from the Lord
The Maker of Heaven and Earth
Blog:  Waylon Bailey
Prayer:  Lord, please take away our doubts and along with that our fears, our anxiety, our worrying and fill us to overflowing with Your love and peace and hope. We ask You today to let us see Your love at work in us. Show us the truth – Your truth – in powerful, undeniable ways. Let that move into trust and let us be powerful examples of You – alive and all over life in this world in this time. Grow our trust – grow our love – grow us as Your sons and daughters adopted through what happened on that cross on that day. We love You, Lord. Forgive our doubts and our failure to trust. In Jesus' name we pray. Amen.