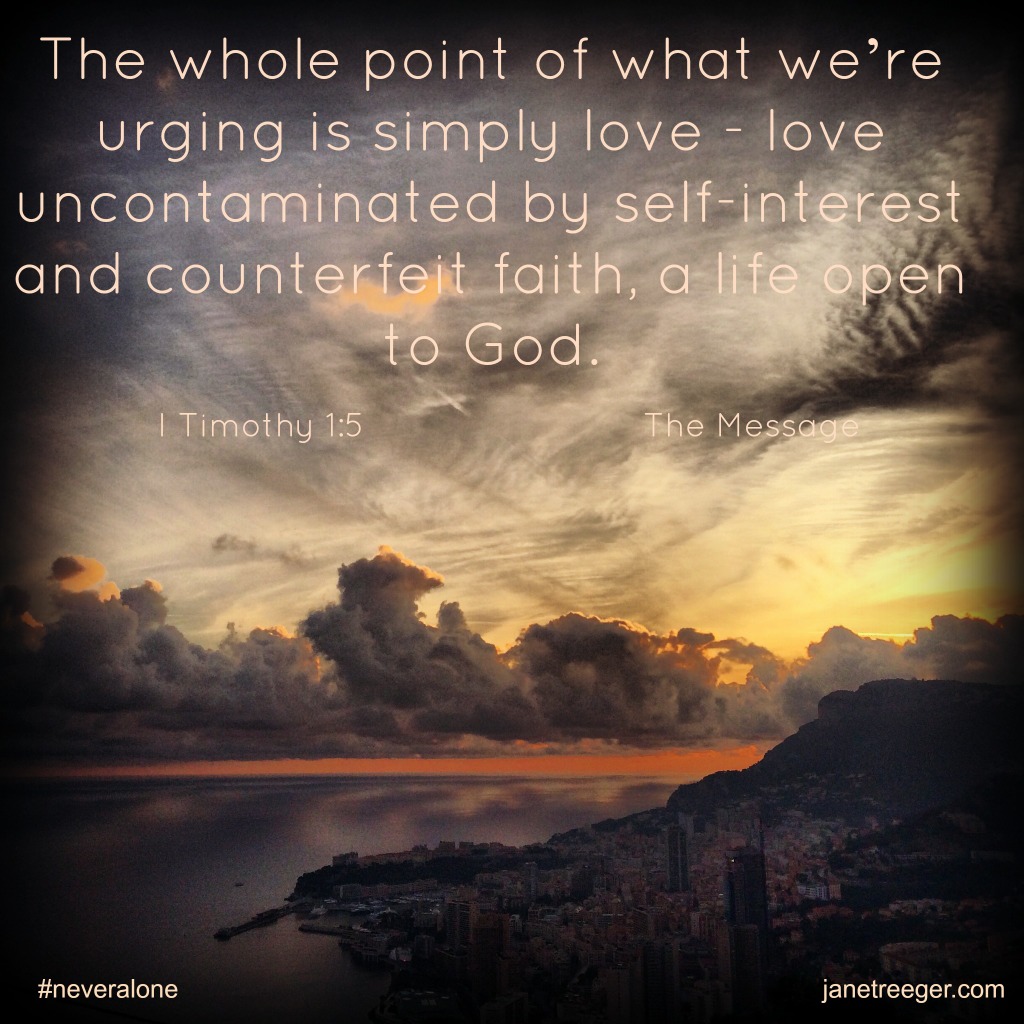 I Timothy 1:5 The whole point of what we're urging is simply love –
love uncontaminated by self-interest and counterfeit faith –
a life open to God.
The Message
These past few weeks I have found myself thinking a lot about prayer. This discussion has prompted some great conversations with good friends. I've shared my concern for my prayers becoming ineffective – silly me – wondering if I need to examine my prayers and how can I become a more effective pray – er? Again – silly me.
Reading the Psalms I love reveals many examples of prayers. David's prayers to God, Daniel's prayer to God, and Solomon's dedication prayer of the temple to God – just to name a few.  Job, Nehemiah too – and of course Jesus' response to the disciples when they asked Him to teach them how to pray – The Lord's Prayer.
And then there are the many women . . . oh my. . . gratitude for their powerful examples.  Volumes have been written on the topic of prayer.
But this morning, I'm laying it all down at Jesus' feet. Distractions – that is all that discussion of how I pray is about for me right now – distractions. Like how I say something or how "hard" I pray is going to make a difference. What matters is me remembering God is right there – right here. What matters is He knows my heart. What matters is I don't always have to know how or what to pray.
What truly matters is the one word in the scripture above – OPEN!
I need to open my heart to the Holy Spirit's presence in me. I need to be open to  trusting the Holy Spirit's translation of the words so twisted up in me.  Maybe you can identify with the bound up emotions that threaten to clog the avenue of peace that should be open after I release all my junk and have allowed God in.
Becoming aware of what happens when I open up allows me to see God's love clearer. It releases that protective shield "I" have constructed around me in order to avoid unpleasantness, conflict, and pain. It releases all that into God's hands. It leaves me with that peace Jesus is talking about in John 14:27
Peace I leave with you; my peace I give you. I do not give to you as the world gives. Do not let your hearts be troubled and do not be afraid.
A friend and I were talking yesterday and I shared my exploration of prayer. Words, consistency, more, harder  – and then I told him I am more and more convinced I just need to open my arms wide in the gesture of giving it ALL up to God and allowing Him to work through it in ways I can never imagine. We both smiled. Yep. God loves to hear my prayers – my gratitude, my tears, and my grief – giving it all to Him.
And in those times when I just don't have any more words, opening my heart and allowing His love to flow in and out changes everything. EVERYTHING!
My prayers can become part of every step and every breath I take.  I am learning it is possible to move through my day and always have that conscious awareness that God is there with me.
It's not about the words, the eloquency, the frequency – it's about opening my heart to allow Him to take it all.
Personal struggles of mine have taught me I can not change anyone or most circumstances. In this discussion with myself, I realize I do have the ability to change one thing:  My tendency to close the doors to my heart and my make inner circle  so very small. My goal is to change that – to open my heart and allow Jesus' promises in and God's love to thrive.
I need to remember Jesus' words to the disciples in  John 14:1 Do not let your hearts be troubled. Trust in God; trust also in me.
Please join me if you feel the same struggles. Let's open our hearts. Let's encourage each other in love – to love – the world around us. Most of all, let's be open to allowing God's love to fill our hearts in ways we can yet imagine.
Romans 15:13 May the God of hope fill you with all joy and peace as you trust in Him, so that you may overflow with hope by the power of the Holy Spirit.
It's interesting how thinking about prayer leads me to open, leads me to God's love, leads me to peace, leads me to hope that leads me to joy. The gifts multiply in abundance.
Lord, right now, right here, please give us the courage to open our hearts – to physically open our arms, removing the shields we have built to protect us – giving it all up to You.   Fill us up, take away all the obstacles that block us from living lives in the promises of the blessings You have made to us. Let others see You at work in us and give us endless opportunity to share what we know about You with the world around us. Give us an incredible spirit of boldness. Forgive us for all the missed opportunities but know we look forward to the coming ones. Prepare us to serve. We love You Lord. In Jesus most holy name we pray to You. Amen. . .