Well, it is in fact, December 29th but I am still going to post this. My blog has been down for several days due to an important update I didn't know I needed and after many emails, texts and phone calls my diligent buddies, J and S, got it all figured out. Goodness, I lack in the techie world.
I had the privilege of traveling to Brussels with my sister in law, Teresa, to collect her daughter, Maggie, after her semester of study abroad there. My favorite pics will be up later in the week. Sights and scenes were ones forever imbedded in my minds eye. We traveled on to Nice and explored the southern coast of France. It is true the color there is unique. So rich and deep.
Planning ahead, I took pictures of every manger scene I came across. My granddaughter, Emma and I share a passion for them. The birth of Christ so long ago is recognized around the world by many people and I always am fascinated by how the artists' depictions vary.
This first one is in Brussels.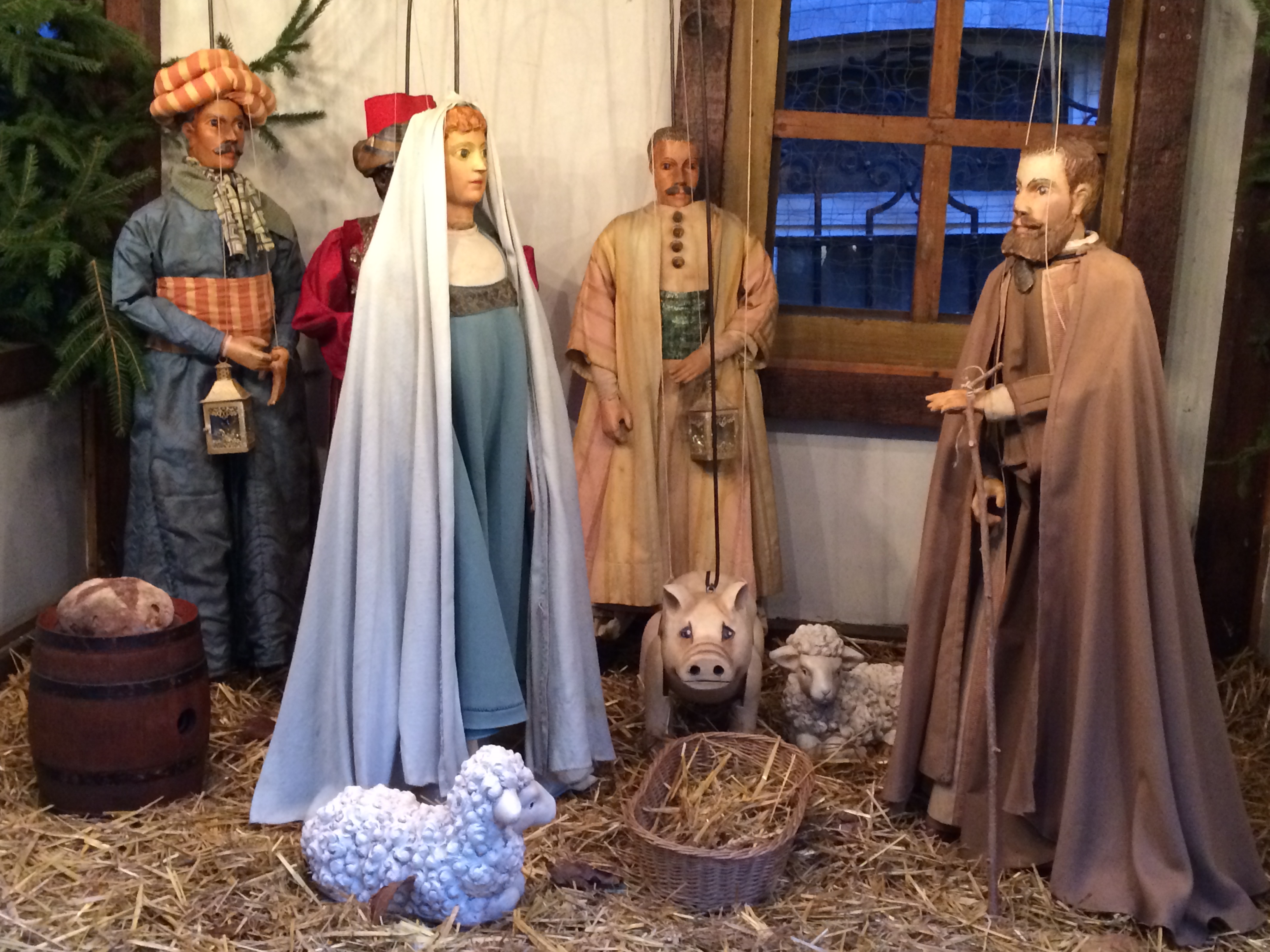 It is life sized. The figures are puppets. I wish we had been there for a performance. Notice the manger is empty. This was mid-December. Check out the pig and the fresh (really) loaf of bread on the barrel to the left.

In the castle overlooking Monte Carlo, Monaco, there tucked under some beautiful pine trees was this beauty with baby Jesus present.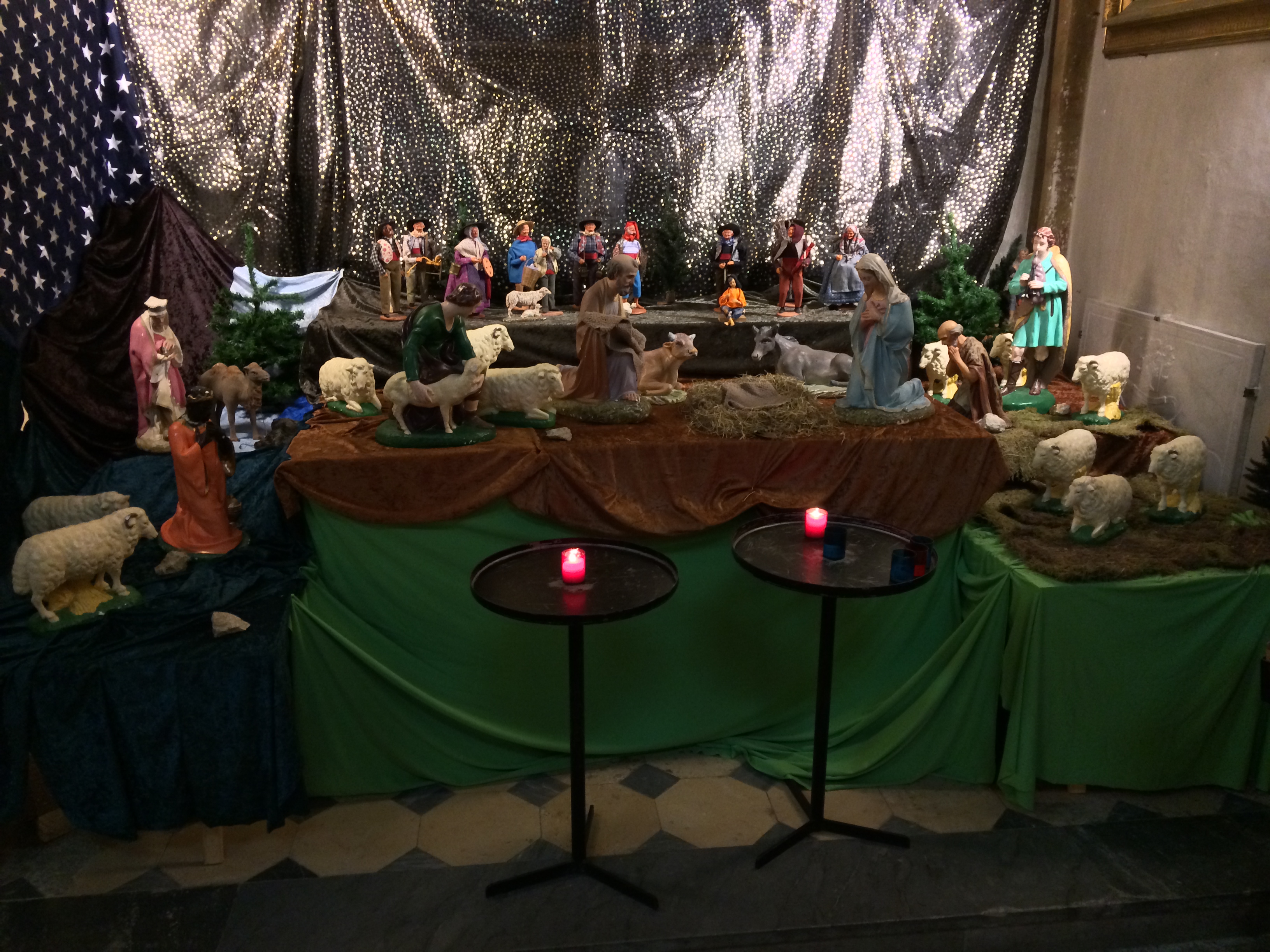 This scene is in the church in the medieval city of Eze, France. It is very detailed. We sat for quite some time in the pews. There was something special about this particular place this particular day. A much needed break from the busy, commercial world outside its walls. The manger is empty.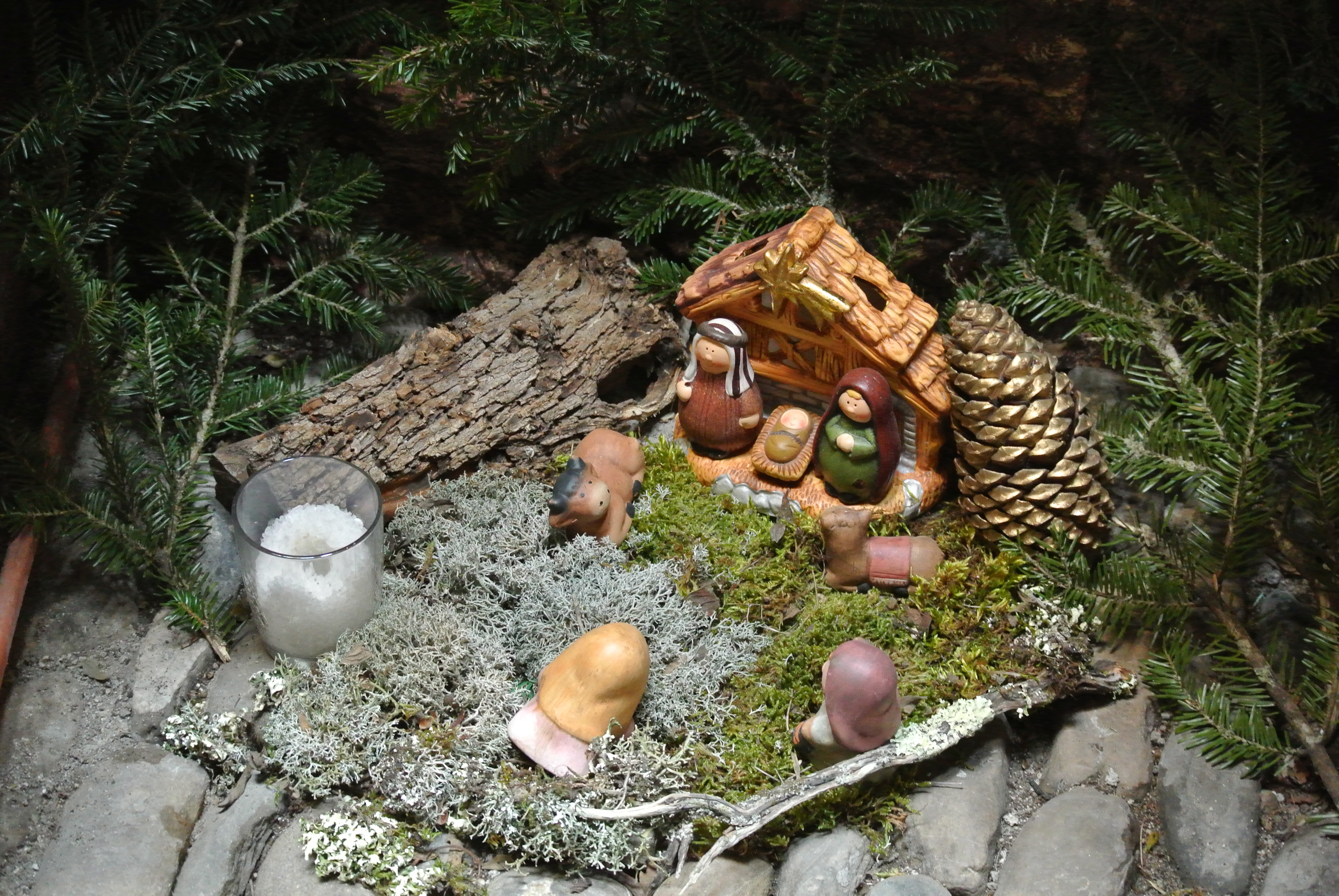 This one appeared as we turned the corner walking through the medieval city in Dolceacqua, Italy. It was set up beside someone's door. Tiny though it was, it was sweet and baby Jesus has arrived.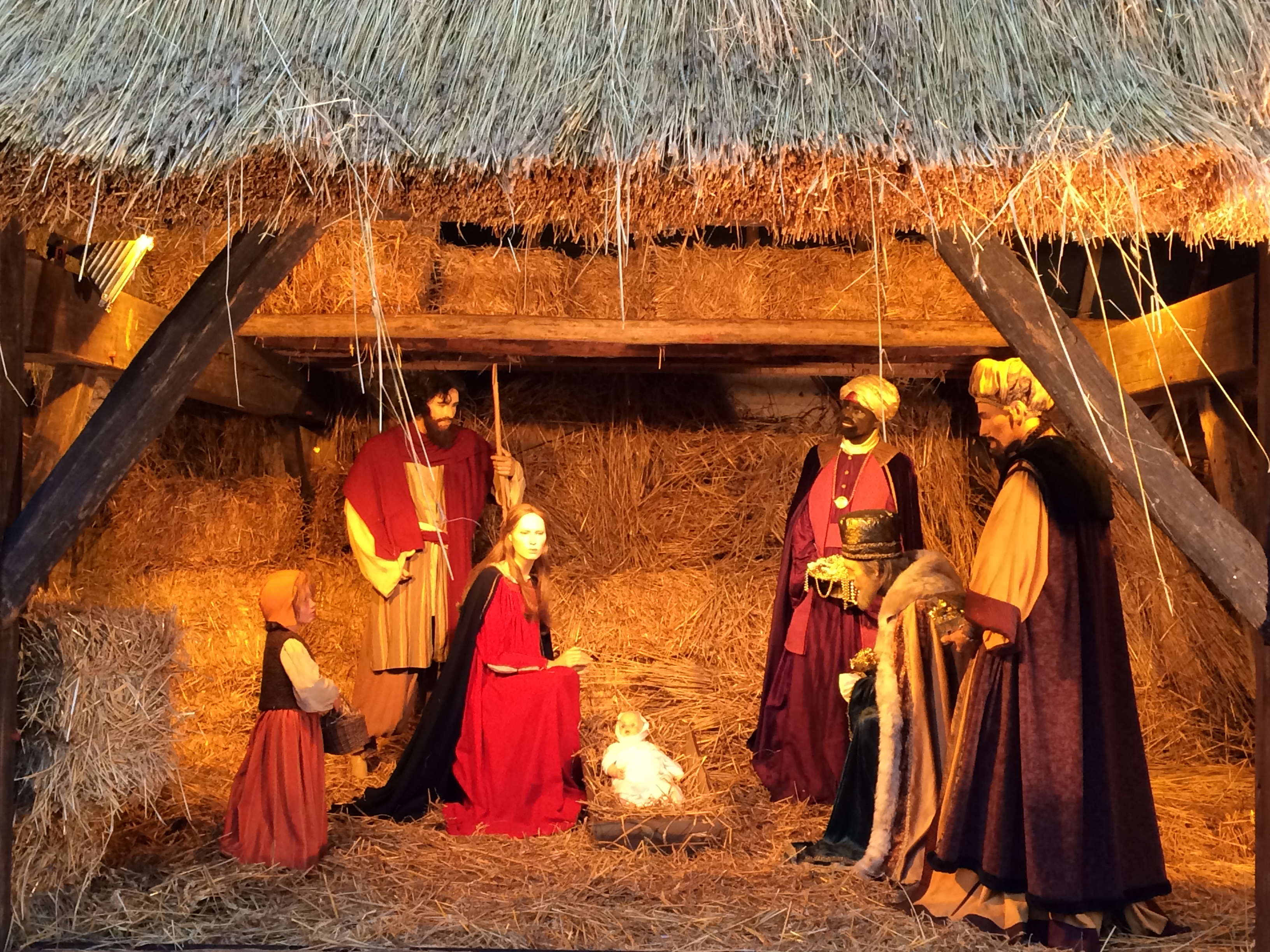 This was the largest nativity scene we saw. It was constantly surrounded by people milling around the main square in Brussels in front of St. Catherine's church. There were live sheep off to the side in a pen. I was curious of the look on Mary's face. What do you think? There is baby Jesus!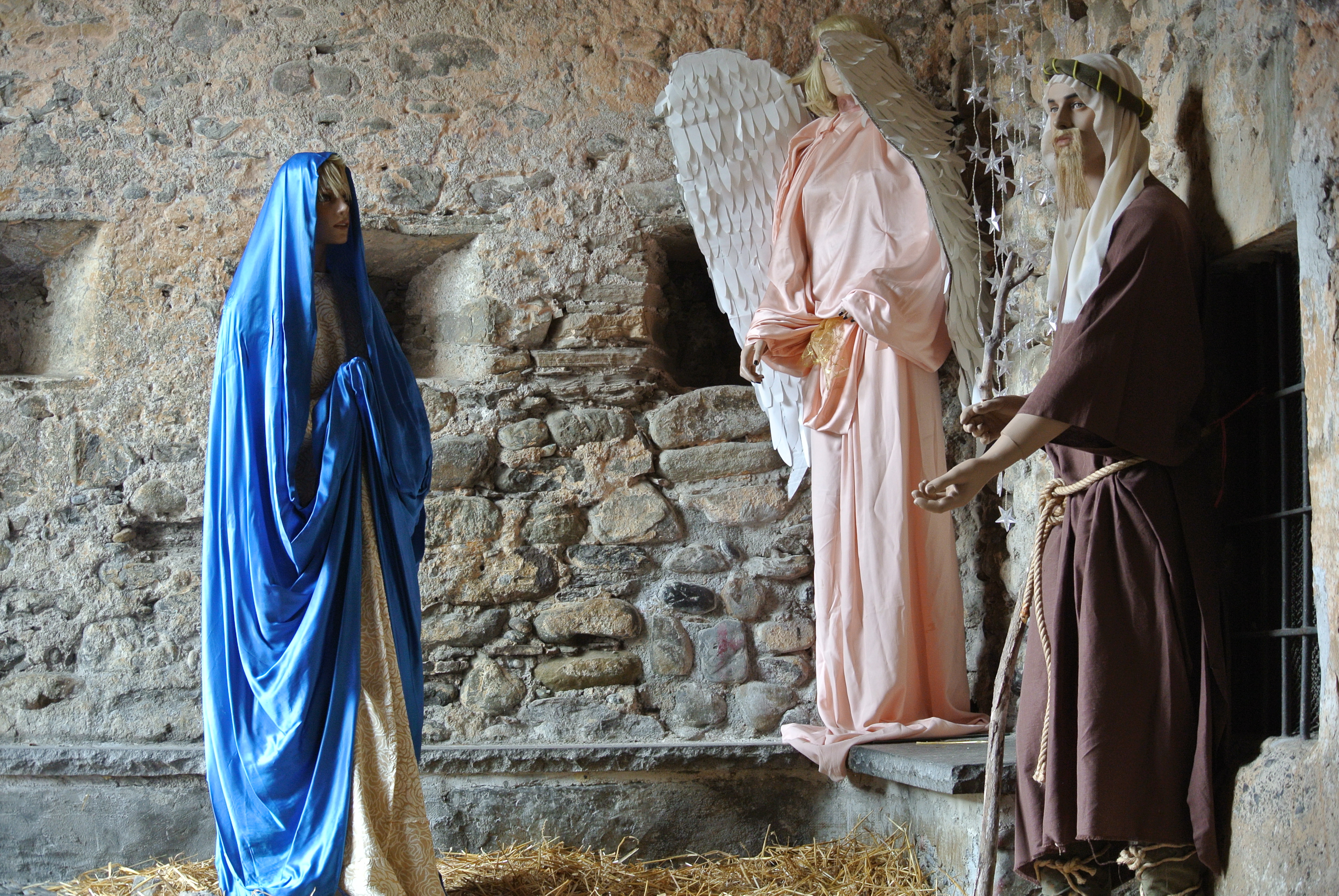 As we entered the medieval city in Dolceacqua, Italy, these three greeted us. They are life sized. I love the angel in the corner with the stars. Baby Jesus hasn't arrived.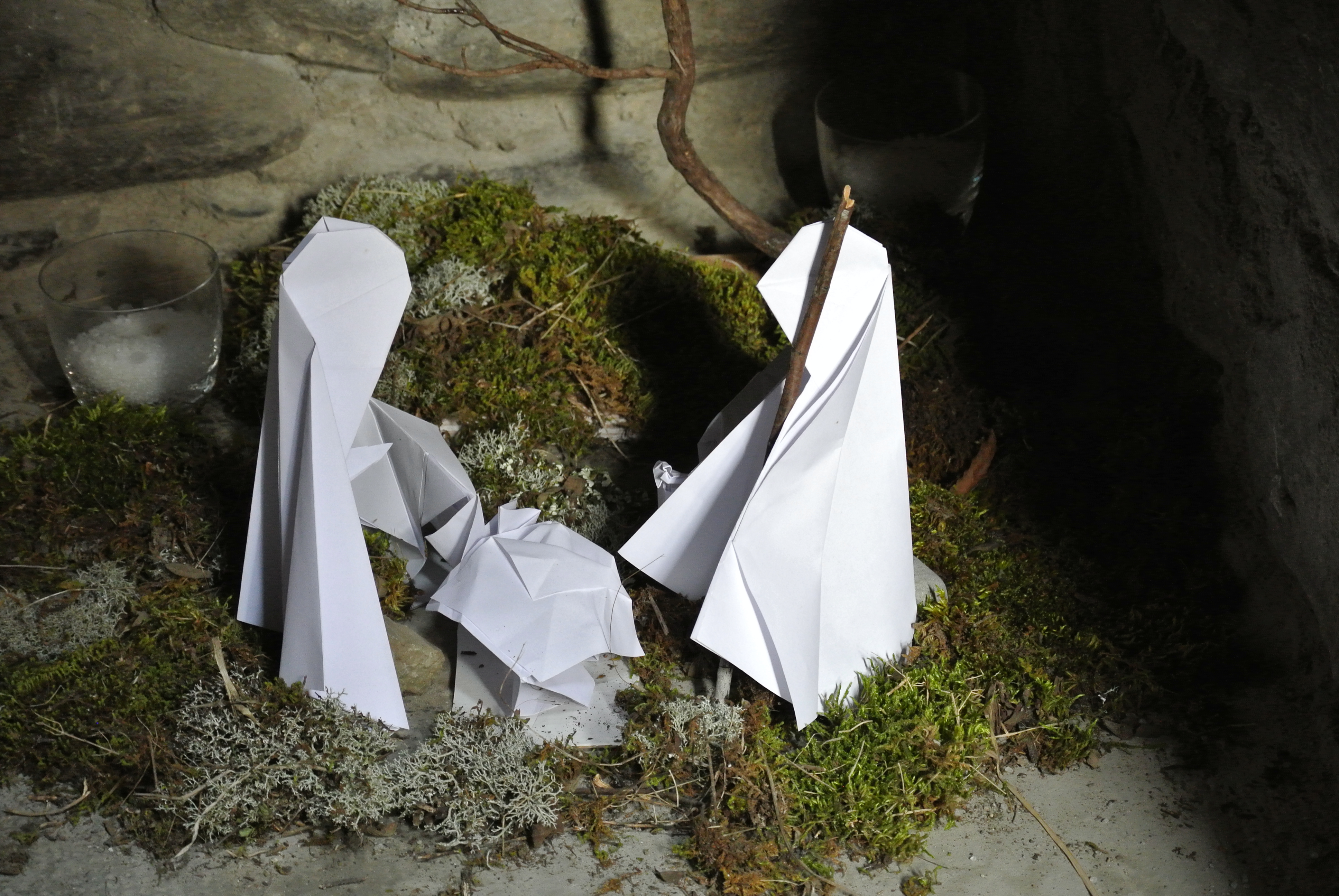 This is definitely the most creative one we saw. Occupying a tiny space in the corner next to someone's front door, simply using three pieces of paper, the artist conveyed the joyous arrival of our Lord as baby Jesus. I love the "stick" staff.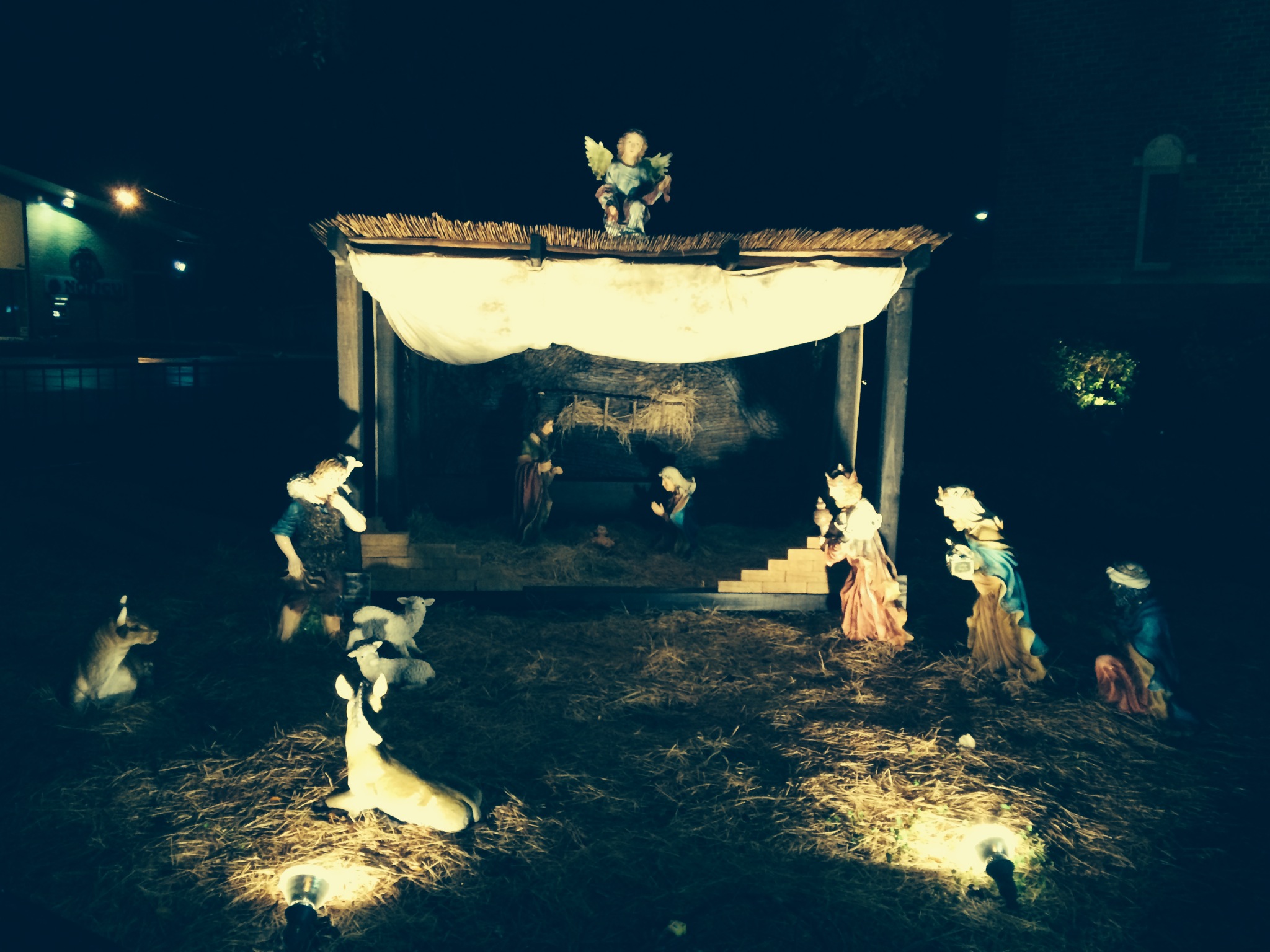 Returning home, this beautifully lit scene is two blocks from my house. I'm reminded we share a common belief around the world as we celebrate the birth of our savior. What an adventure traveling in the Christmas season. Thank You Lord for safe travels.
The Birth of Jesus
Luke 2:1 In those days Caesar Augustus issued a decree that a census should be taken of the entire Roman world. 2 (This was the first census that took place while Quirinius was governor of Syria.) 3 And everyone went to his own town to register.
4 So Joseph also went up from the town of Nazareth in Galilee to Judea, to Bethlehem the town of David, because he belonged to the house and line of David. 5 He went there to register with Mary, who was pledged to be married to him and was expecting a child. 6 While they were there, the time came for the baby to be born, 7 and she gave birth to her firstborn, a son. She wrapped him in cloths and placed him in a manger, because there was no room for them in the inn.
The Shepherds and the Angels
8 And there were shepherds living out in the fields nearby, keeping watch over their flocks at night. 9 An angel of the Lord appeared to them, and the glory of the Lord shone around them, and they were terrified. 10 But the angel said to them, "Do not be afraid. I bring you good news of great joy that will be for all the people. 11 Today in the town of David a Savior has been born to you; he is Christ the Lord. 12 This will be a sign to you: You will find a baby wrapped in cloths and lying in a manger."
13 Suddenly a great company of the heavenly host appeared with the angel, praising God and saying,
14 "Glory to God in the highest, and on earth peace to men on whom his favor rests."
15 When the angels had left them and gone into heaven, the shepherds said to one another, "Let's go to Bethlehem and see this thing that has happened, which the Lord has told us about."
16 So they hurried off and found Mary and Joseph, and the baby, who was lying in the manger. 17 When they had seen him, they spread the word concerning what had been told them about this child, 18 and all who heard it were amazed at what the shepherds said to them. 19 But Mary treasured up all these things and pondered them in her heart. 20 The shepherds returned, glorifying and praising God for all the things they had heard and seen, which were just as they had been told.

So, even though I was unable to post this on Christmas Eve as I had planned, I know in my heart that I am to celebrate the birth of my savior everyday. Jesus' birth, His life, His death is the greatest gift a Father could ever bestow on the children He loves. God loves each of us and desires deeply that we spend eternity in heaven being blessed by Him and worshipping Him. It is a gift unparalleled by anything I would ever find or imagine to find under a tree on December 25. The greatest gift of all – my Savior Jesus Christ.
Blessings,
Janet