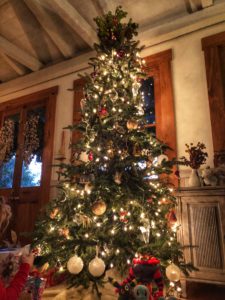 My last post ( My Christmas Story ) talked about the journey I have walked through healing from the loss I have encountered at Christmas time. I mentioned this is the first year I have put up a tree and several people asked me for a picture of it. I have loved having a Christmas tree back in my life. It's not perfect, but it is mine. (cue the happy dance and smiley face emojis here)
+++++++++++++++++++++++++++++++++++++++++++++++++++++++++++++++++++++
Christmas morning has arrived. It's 2:00 a.m. Yesterday was full of activity. Church service was beautiful. Dinner was nice and the food and company – great. The Christmas Eve party with my granddaughter – delightful. It's such fun watching her with her friends.
I thought about the presents under the tree at everyone's houses and the excitement of my seven grandchildren. I would love to be there with everyone in the magical moment of discovery and see the wonder in the kids eyes as they come around the corner and stop to take it all in.
I don't buy many presents. When something special hits my radar throughout the year I love to give without having a special occasion. It's much less stressful and lots of fun.
Yet, I have discovered the best present I can give is not a noun at all – but a verb. I truly believe the best I have to offer in the chaos of the day today is to be fully present. I want to listen to the excitement in the kids voices as they show me what santa brought. I want to see the sparkle in their eyes and to play pie in the face or uno or phase ten and follow them as they drive their new car just perfect for a two year old.
As we deliver meals in our community early this morning, I want to be present in the moment as we drive into neighborhoods we didn't know about before. I want to be present in the conversation with our kids in the car and hear them process what they are seeing and hear what the people said when they carried the box holding the Christmas dinner to the door.
I want to be present in the moments of conversation where I hear the hearts of those I love most.
And most of all, I want to hear the gratitude in our hearts and the love we hold there for the greatest gift of all – God's son becoming man, coming to walk this earth and being fully present among us and in our lives today. The depth of His love for us overflows from my heart. His presence in our conversations and our celebrations today are by far the greatest gift we could ask for.
And . . . remember – it's not about the present we bring – it's about us being present in the celebration.
Merry Christmas everyone,
Janet