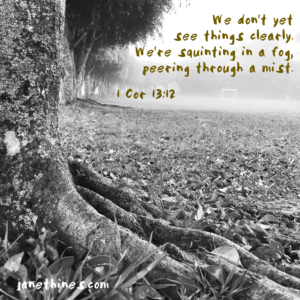 . . . But it won't be long before the weather clears and the sun shines bright! We'll see it all then, see it all as clearly as God sees us, knowing him directly just as he knows us! 1 Corinthians 13:12 The Message
Life. If you have lived many years on this earth, you probably have experienced ups and downs. You know well the feeling of confidence when the answers you seek are clearly defined, leaving you with clarity how to proceed through the challenge facing you.
But.
What about when you can't see clearly? When you aren't sure about how to proceed – what then? When I took this picture I focused on the beauty of the roots of the tree. The clouds in the background heightened the drama of their connection to the ground. I love the symmetry of the row of these giant ficus trees. Examining the picture closer, I noticed the soccer goal in the misty background and decided I could easily edit it out. After all my intention was to focus on the roots.
Suddenly, I realized how close I was to missing the much deeper message in this photo.
I had been looking down, distracted by a wonderful shot. Yet, looking forward, what did I see?
Something even better. A goal. Barely visible through the clouds.
It wasn't wrapped in neon lights screaming "come this way". My eyes didn't immediately focus on it. It was only when I began studying the picture, did I even notice the goal ahead.
This is what did scream at me. How easy it is to be distracted by what is right in front of me and forget there is much to see and learn when I have a goal set ahead of me.
James 1:5 NIrV
If any of you need wisdom, ask God for it. He will give it to you. God gives freely to everyone. He doesn't find fault. 
My favorite three letter words in this scripture – ask God.
When it seems life is keeping me distracted from the goal I know I have chosen to live for, I have learned to pray. I ask God.
If there is any wisdom I could pass on, it is this. Our world is intent on coming at us so fast that we will forget we even have a long range goal. We will forget there is more meaning to our lives than just surviving day to day burdens.
In fact, God's word shows us even Jesus knew the struggle was real and He knew we would need His help.
Following are a few of the many scriptures that give me great comfort and encouragement.
Isaiah 41:13 NIrV
I am the Lord your God. I take hold of your right hand. I say to you,
Do not be afraid, I will help you.
Matthew 11:28-30 NIV
"Come to me, all of you who are tired and are carrying heavy loads. I will give you rest. Become my servants and learn from me. I am gentle and free of pride. You will find rest for your souls.
In this rest, in the times where God is holding my hand, the clouds lift and my soul knows my sights are set on the firm ground, the distractions clear and a peace fills me.
Join me on this journey with sights set on the ultimate goal God has designed for us, freely offers us and desires deeply for us to accept.
Philippians 3:14 NIrV
I move on toward the goal to win the prize. God has appointed me to win it. The heavenly prize is Christ Jesus himself. 
Let's look at this same scripture in the Message translation.
Philippians 3:12-17  
I'm not saying that I have this all together, that I have it made. But I am well on my way, reaching out for Christ, who has so wondrously reached out for me. Friends, don't get me wrong: By no means do I count myself an expert in all of this, but I've got my eye on the goal, where God is beckoning us onward—to Jesus. I'm off and running, and I'm not turning back.  So let's keep focused on that goal, those of us who want everything God has for us. If any of you have something else in mind, something less than total commitment, God will clear your blurred vision—you'll see it yet! Now that we're on the right track, let's stay on it.
"Lord, we come to You. Humble, seeking and wanting a clear picture of the goal You have set for us. We praise You for  creating us with a piece of You deep inside. We choose to nurture our relationship and grow closer with You as our goal for eternity. Please, Lord, lift our eyes to You when we feel overwhelmed by this life. Fill us with Your hope, Your peace and Your love. We love You, Lord. Amen"