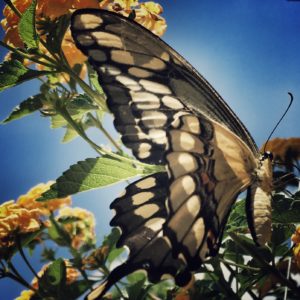 Looking up at the hanging baskets at the nursery recently, I spotted this beauty. The sun was behind her and the light – incredible. It was as though she posed for me. Really! I mean, look how she's showing off! Her beauty moves me. My heart was amazed at the detail of her design and the colors! God spared nothing the day He created her. He didn't spare any detail when He designed us in His image either. Isn't it interesting how we fail to appreciate our own beauty? Why is it so hard for us to love ourselves and to comprehend how much God loves us? The world works overtime to cloud our vision and rob us of the opportunity to live loved and to even scratch the surface of God's deep love for us.
Psalm 137:13, 14 
For you formed my inward parts;
you knitted me together in my mother's womb.
I praise you, for I am fearfully and wonderfully made.
Wonderful are your works;
my soul knows it very well.
ESV
I wonder how our outlook on life, how we maneuver through the struggles we face daily and the source of our joy, line up? Is God's love for me what motivates me to love the world I move through every day? What motivates you? How can we impact our place of work, our relationships and interaction at church, our lives at home, hanging out at the soccer-baseball-football- lacrosse- fields. Through practices and games. Through recitals and tryouts? So many of us spend endless hours a day with opportunity abounding to touch the world around us with a smile or act of kindness. Just like the butterfly in this picture, I want to be someone the world smiles at when they see me coming, not that person everyone holds their breath around, waiting for the inevitable meanness to spew. Yes, all that went though my mind with the simple reminder of a butterfly.
Matthew 6:22–23 
"Your eyes are windows into your body.
If you open your eyes wide in wonder and belief,
your body fills up with light.
If you live squinty-eyed in greed and distrust,
your body is a dank cellar.
If you pull the blinds on your windows,
what a dark life you will have!
The Message
"Lord, we see evidence of you everywhere we look. In the midst of such darkness and hopelessness, we pray You will protect us from the dark that is our enemy. Divorce, drugs, death, and a multitude of other weapons  are used to distract us from Your presence. We pray God for You to keep the Light alive in us and around us in our deep struggles to stay focused on what we know to be the truth of life everlasting. Thank You for using a simple, beautiful butterfly to remind us how close You are. Thank You for loving us and forgive us when we doubt. Amen."