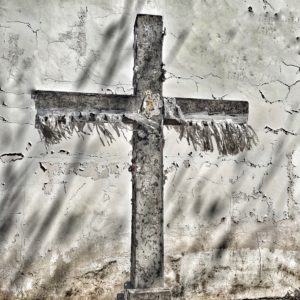 It's Friday. This cross stands in front of a very old church in a tiny town out in the mountains of Honduras. I've been thinking about Jesus a lot today. My hands and feet have been busy doing mundane tasks. My mind has been very focused on what happened one Friday afternoon when the world changed. Jesus hands and feet went up on that cross, were nailed there, stayed there and when He came down, He brought redemption to a very broken world. He brought grace, forgiveness and hope down. He went to the tomb. Death could not contain Him. He opened His arms to the very least of us – to each and every one of us. He lives!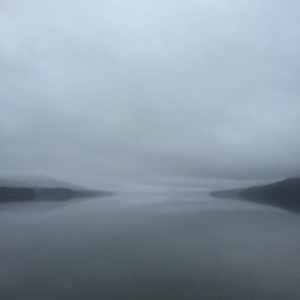 It was Saturday. Watching hope vanish before their very eyes on Friday, the followers, friends and family of Jesus likely felt their world turned gray. I felt the heaviness of the air standing  at the edge of Lake McDonald in Glacier National Park as the clouds began to crawl down the mountains towards us.  It was a physical evidence of something I had experienced emotionally in the past. I wonder if that's what it felt to them? What were their conversations were about? Were they even able to speak of what tomorrow would look like? Sunday? To them, with their hope gone, there was no hope for Sunday or Monday – what did the future hold? Their world had changed forever.  Isn't it the same with us when we lose someone we love so deeply? But, they didn't have the hope we have today. We know what happened next. Sunday did come and it wasn't what they expected. When we live in Christ, our tomorrows can certainly look like they hold no hope to others, but no matter what the day has laid on us, Jesus is there waiting to pick it up from us and carry us too. His hope. His love. Our forevers with Him.
And Sunday did come. It's not humanly possible for me to comprehend the emotions of Jesus' followers, friends and family. As a mother, I cannot imagine the depth of emotions in her heart and the joy she knew in that moment when she knew. She knew that she knew His conversations before Friday were true – that He was not leaving them – that God our Father's plan was being put into action. An action requiring faith from all. To believe He was coming back. Jesus asks the same of us today. We have the historical proof He existed. We have the inspired word of God to rely on. Now He is asking us to believe the end of the story has not yet become our reality. He said He is coming back. I believe.
"Thank You, Father God for being so present in our lives. Thank You, Lord for how You have shown us Your love. Give us courage as we accept the invitation You offer us to join in the journey. Help us to live earnestly seeking Your presence in our lives. We wait for You, Lord. We look forward, past the Fridays and Saturdays of our lives and on to the Sundays ahead. Thank You Father. Amen."