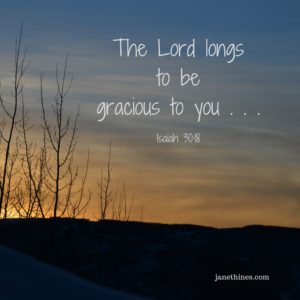 . . . and therefore He waits on high to have compassion on you. For the LORD is a God of justice; How blessed are all those who long for Him.
Soon after we moved to Danbury, Connecticut, in 1982, a sign caught my eye in the craft store. Quilting classes offered – call …-….
Our friendship took life as soon as we met. Her son became best friends with my kids and we spent many of our days together. She was a master quilter. Extraordinaire. An incredibly patient teacher.
I was blessed to take what I had learned and taught my mom how to quilt. It became her passion the rest of her life and brought her much joy.
When I was invited to spend three weeks in Honduras in 1999, the afternoons were spent with a group of local women and I taught them how to quilt. As they made pieces, they sold them to visiting groups from the states. I saw how this income could change their lives.
Janice was always smiling when we talked about the birth of Mi Esperanza, the non profit organization I co-founded in Tegucigalpa in 2002. She played a huge part by teaching me what she knew which empowered me to take that talent and share it with others. Mi Esperanza has been doing this for fifteen years now.  Teaching, sharing and spreading the opportunity.
We both moved from Connecticut in1984, yet saw each other many times in different parts of the country the next thirty years.
When her health was compromised by meds she was given, she developed a cancer she fought hard as it came and went and came back again and the effects of it ravaged her body.
It's been three weeks since she moved to her permanent home in heaven.
Her husband got in touch with me shortly after she passed to let me know her suffering had finally ended.
Later, I was texting him. I began writing a sentence sharing my respect and love for her. It began , "Janice is such an amazing artist and . . . " I stopped typing. Began crying. Backspaced – erasing the word "is" and painfully, slowly typed "was".
That moment keeps playing on repeat in my heart and continues to spring tears that effortlessly flow down my cheeks.
I look at my kids and my grandchildren – I can't get enough hugs from them or tell them how much I love them enough, knowing I won't always be with them here on this earth.
It's too easy to live our lives ignoring the fact that one day, our status will change from "is" to "was".
I think of the parable of the prodigal son in Luke 15:11-32. It is here Jesus is teaching us that we are dead in our sin, but He waits for us to return to Him and everlasting life.
Follow along with the father's response to his older son.
Luke 15:32  "But we had to celebrate and be glad, because this brother of yours was dead and is alive again; he was lost and is found."
My friend, Janice, had the assurance of eternal life.  As a child of God living my life in His grace, forgiveness and redemption, I too have that confidence as His beloved daughter.
It is critical for us to examine deep within ourselves what our current relationship status is with God. We never know the moment that will change. I once witnessed the scene of a horrific accident. The visual of the vicious aftermath will never leave me. A watermelon filled semi lost control coming around a curve and literally ran over a full bus and twenty three people died instantly.
As life has distracted us and drawn us into our own drama and trauma, we too can easily become the prodigal son. But, like the son in the parable, God is waiting for our return.
We can take what we have learned from our past experiences with God and use that as a springboard to launch us into a new relationship with Him. One that will lead us back to His waiting arms.
Don't let your "is" become a "was" without God. I can guarantee you – this isn't a "what if" option – this is a guaranteed "when" event.
"Lord, please be patient with us just as You were with the prodigal son. Thank You for Your willingness to let us come to You in our own free will. When that happens, Lord, we know it will be for eternity. I dream of eternity with You. I dream of my friends and family made whole again but that wholeness begins here on earth when we accept You as our Lord and our Savior.  Thank you Lord for the depth of Your love and the persistence You pursue us with. May our eyes and ears be opened to the sacred presence of You being so near. We praise You. We love You, Lord. Amen