My granddaughter has a new puppy. She weighs about two pounds. I was grand dog sitting the other day and it was time to take her out. It was cold enough she needed her sweater. Oh. My.
Two pounds my friends. That's her against me.
It was what I imagine wrestling an octopus would be like. She almost won. But I talked to her and got her calmer and finally managed to get it over her head and her little tiny legs where they belonged – everything in the right holes.
Then I had to laugh – I'm pretty sure God looks at me that way sometimes. I wrestle with the goodness He has in mind for me and no matter how hard I fight, when I finally give up fighting and let Him work good for me and in me – it is at the right time and in the right way – the best way.
It is when I become still I can see better what is going on. When I'm struggling and fighting just like Aria did with me that day, I can't focus on anything.
See – she's so fierce – right?
Like a little tornado. And then she completely wore herself out and this is what we get. Resting and stillness. Until the next time and there will be a next time – just like there will be with me.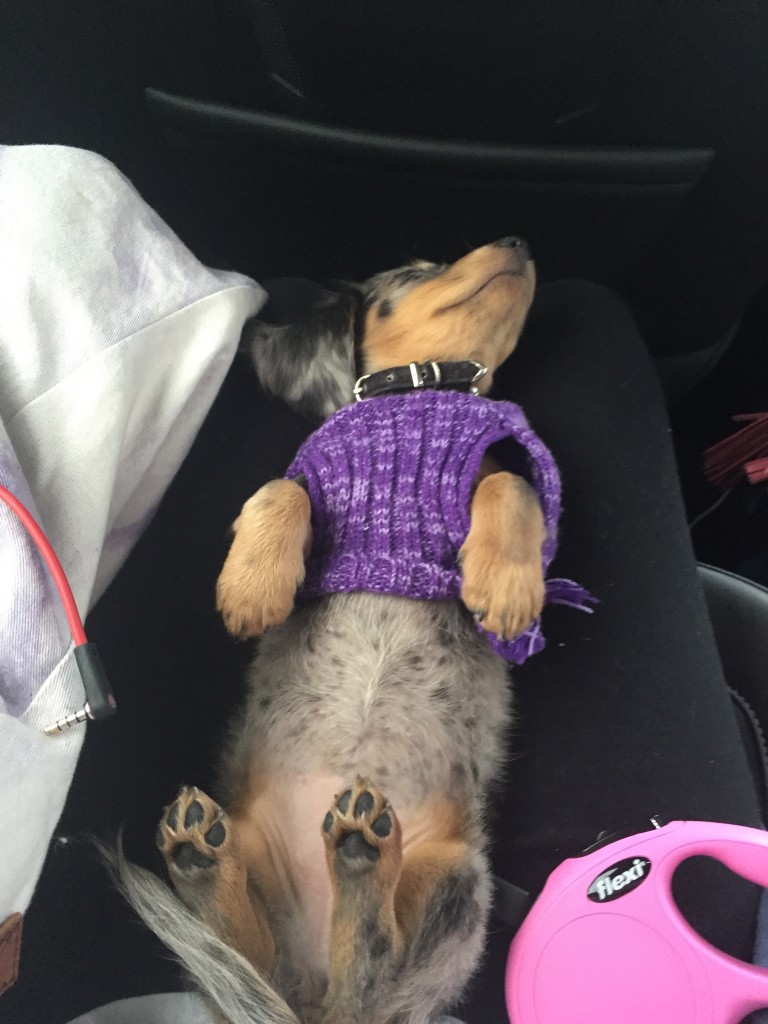 "Lord, help me remember it is that simple. I have to stop. Stop struggling. Stop resisting. Become still. To focus on everything I know to be true about You – the God I serve –  becomes priority. Still my thoughts. Still my pounding heart. Still my eyes as I am desperately looking at everything except You for the answers. Still the noise of the world as it tries to drown You out. In Jesus' name. Amen."
Psalm 46:10 He says, "Be still and know that I am God; I will be exalted among the nations, I will be exalted in the earth."
I came across this song recently and it just feels good in my heart when I listen to the words. Take almost nine minutes of your day and give yourself a treat.
I Will Be Still by Young Oceans