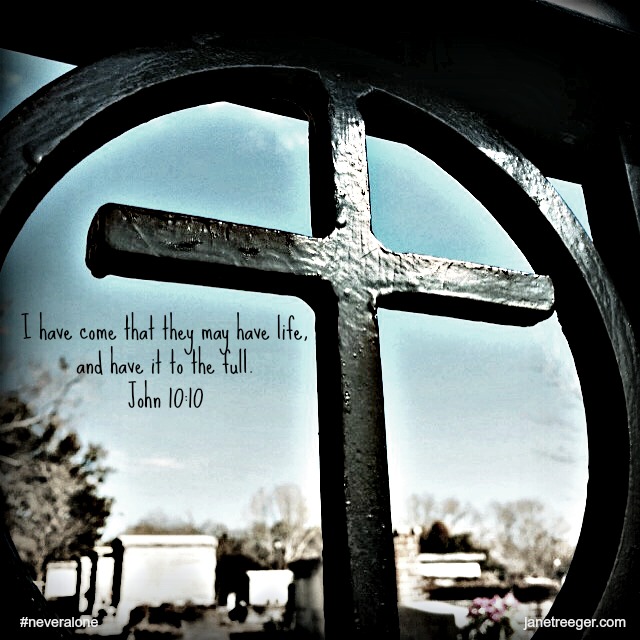 I have always loved the cross and what it symbolizes to me. Yet, when I take away the familiarity of it and examine it from different angles, I see something that deepens my love for what God did for me. Simple in construction, He chose something designed to be used in horrific ways.  He allowed His Son to be put there – all because He loves me and you so much He wants us to spend eternity with Him.  I try to apply that in my own feeble mind and cannot comprehend nailing one of my sons to it – and then loving the people who put Him there.
Yet I am drawn to this story in powerful ways – how much God must love me – how much God does love me. How much God loves every. single. one. of. us, my friends.
It is personal.
It becomes a symbol of love.  What man used for his own means of destruction, God turned into one of the most powerful, beautiful ways of demonstrating His love for each one of us. Open your bible today and search for all the ways God loves you too! His word is ALIVE.  His Son is ALIVE.  and I live a new life because His love reflects through me. May I remember EVERY day how powerful that is.
I choose to be freed from all the dark messages the world works so hard to impose on me:  I'm not smart enough, pretty enough, skinny enough, good enough.  The world says I am too broken, hopeless, helpless, a loser, discarded, unloved, and the list goes on and on like a bad song stuck on repeat.
Because of what happened so long ago on that day on the cross at Calvary, not ONE thing about God's love for us has changed since that day. The hope that the darkness did its best to rob us of lost the battle that day.
Why is it so hard for us to believe and live in that hope?
It is not possible to figure this out once and for all and it be settled in our heads, our hearts, and our souls. We are living beings. Nothing stays the same. Circumstances constantly change in our lives and many times are much faster and harder than any of us can handle. Yet, I have also learned that my God who loves me so much does not change. Amidst the brokenness of this world – God is the mighty restorer, healer, and lover of my heart and soul. He is there waiting for me to turn it over to Him and quit trying so hard to fix the broken me – myself.
It is a personal journey for each of us, and this God I speak of is big enough to love us individually and to walk through our lives each step of the way into eternity. Because of the cross, you and I have the opportunity to cross from where the world intends to keep us as slaves in fear to the place God has prepared and filled with His hope.
Here is my list of things I am using this week to keep me focused and my eyes turned upward as I turn my crazy life over to Him:
Scripture study – 1 Thessalonians 4. We are studying this in our small group. I'm hung up on verses 10-11. God teaches and encourages us to love each other  "more and more." The more I discover how much God loves me – the easier it is for that love to move through me and into my world around me.
Music – Bethel Music – their new CD We Will Not Be Shaken. All the songs are good. A friend texted me the other day and asked which one I was most connected to that day – hers was "Jesus, We Love You."  I have played and replayed "No Longer Slaves."  We are no longer slaves of fear because we are children of God. Embracing the truth of that brings a freedom filled with hope and joy.
My Prayer – "Lord, this season is full of reminders of what happened those days preceding the day the world planned as permanently fatal – what a powerful example of Your love! For that I can move on in my life loving in ways I cannot do without You in my heart. I love You, Lord. Continue on this new journey with all of us – continue showing us by Your example how to love deeper, trusting Your love for us. We thank You for Your forgiveness, Your beautiful ways of drawing us nearer to You and filling our hearts with the knowing: We Are NEVER Alone! In Jesus' name – Amen"
Encouragement – Ephesians 3:16-19  16 I pray that out of his glorious riches he may strengthen you with power through his Spirit in your inner being, 17 so that Christ may dwell in your hearts through faith. And I pray that you, being rooted and established in love, 18 may have power, together with all the saints, to grasp how wide and long and high and deep is the love of Christ, 19 and to know this love that surpasses knowledge—that you may be filled to the measure of all the fullness of God.