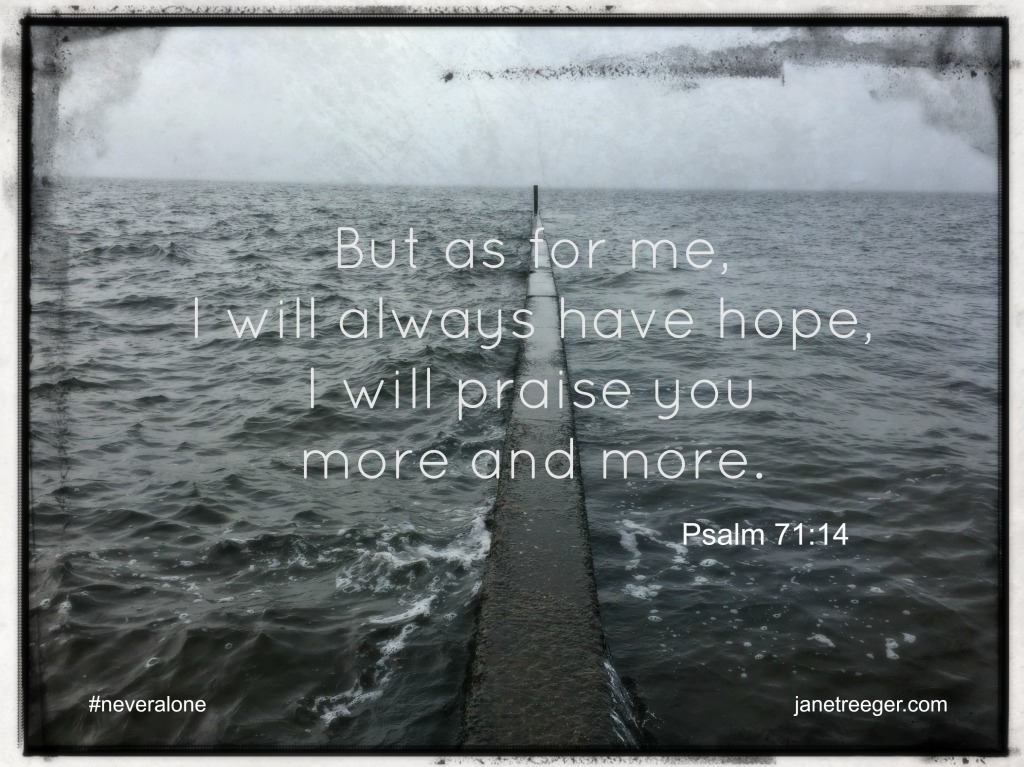 Today, I write with a heart filled with so many emotions and so many thoughts and so many questions.   2015 is one week old today. How's it going for you? I hope it has been filled with many smiles and lots of hugs and filled with the people who love you and the ones who fill your heart.
I've decided my new response to the question we are all asked many times a day "How are you?" is now, "Well, I'm ok and my life is filled with opportunities I had never imagined. Oh and thank you for asking. How are you?" It's a secret code to myself to remind me that my "opportunities" all come down to one thing –   prayer.
If I put on this page even three of the challenges my circle of friends and I have experienced this week, it would leave you walking away just saying "wow – man – wow".   We have done our share of checking off items on that list of things you hope you never have to walk through – oh – and the end of the stories aren't written yet – we have no idea what today will bring.
So when I speak the word opportunity – I speak it as a prayer – knowing that God knows – He knows our pain – our agony when we feel so helpless – He is there with us in the middle of the night when we pray for safety and protection of our children and our grandchildren – He is there when people go missing for days and our hearts are breaking – He is there when our child comes home . . . pregnant or carrying the choice of abortion – neither of which will ever leave them or you . . . God is there when we don't know what to pray anymore . . . in jail . . . in the hospital because of really bad choices . . . God is there in the midst of mental illness, drug and alcohol addiction – the battle against cancer – abuse – a friend's mom passed away . . . untimely deaths . . . and on it goes . . . even down to checking our phone (a hundred times) for a text letting us know they are safe . . .
But when God comes into the darkness – He brings the light of His hope.
This week has left me wondering about prayer. When it seems the answers aren't coming – I question how I pray – do I need to pray differently – what am I missing – show me God – show me You in the midst of THIS! Pray harder? Or maybe focus on praying God's will.  I am grateful for the gift of the Holy Spirit who can carry my tears and sorrow and pain and brokenness to God when I have nothing left.  It's not up to me – all I have to do is give it to Him.
I know the helpless feeling of unanswered prayers yet I also know God is at work in ways we will never understand and I feel the hope rising in my heart and through my body and walk out the door expectantly knowing no matter what the next phone call or text or conversation brings – God has it.
When I opened to the Psalms this morning, this is the first thing I read.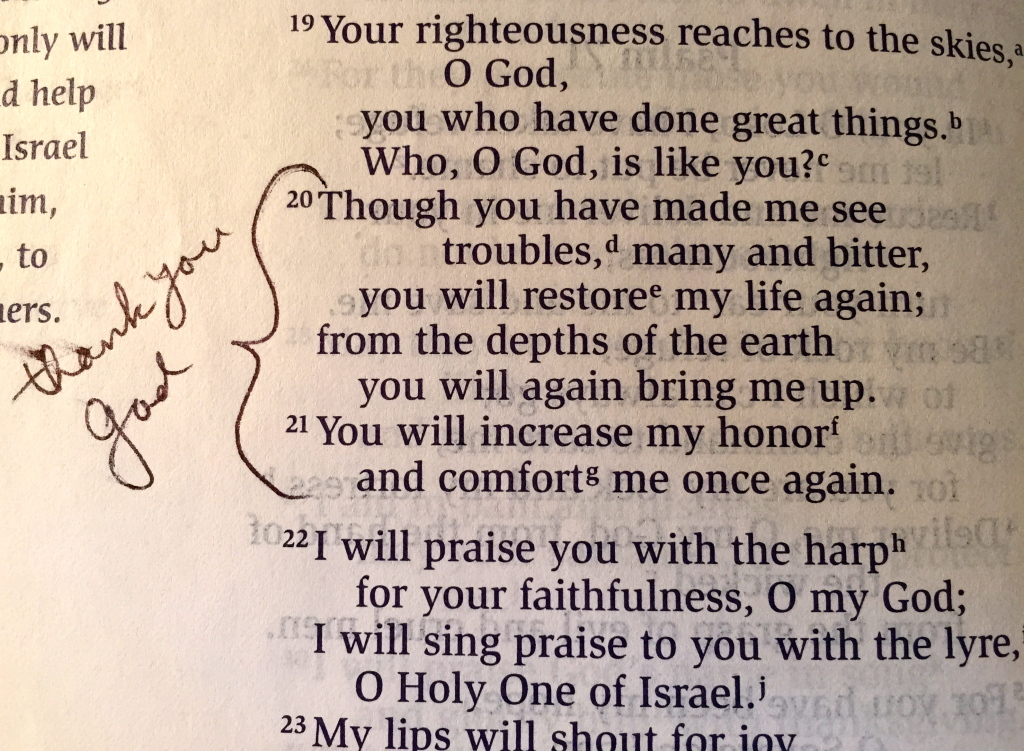 I'm filled with gratitude to know how much God loves me and how you and I can have that relationship that lasts for eternity.
Yet, when I feel I have run out of my words and my soul is still seeking ways to connect with God – I love to go to the Psalms and pray them aloud. So many beautiful words God Himself gave us.
Psalm 63:1-8
1     O God, you are my God, earnestly I seek you;
my soul thirsts for you, my body longs for you,
in a dry and weary land where there is no water.
2     I have seen you in the sanctuary
and beheld your power and your glory.
3     Because your love is better than life,
my lips will glorify you.
4     I will praise you as long as I live,
and in your name I will lift up my hands.
5     My soul will be satisfied as with the richest of foods;
with singing lips my mouth will praise you.
6     On my bed I remember you;
I think of you through the watches of the night.
7     Because you are my help,
I sing in the shadow of your wings.
8     My soul clings to you;
your right hand upholds me.
Take a few minutes today and dig into the Psalms.  Just google it if you don't have a bible with you.  Give yourself this gift today.  It probably won't take you long to find one that lands in that place in your heart that has been unsettled lately.  Pray before you start and ask God to lead you to the one He wants you to focus on that will meet you where you are in your life today.
"Lord – we come begging You for the constant reminder that You have this thing we call life.  The best  we can do for those in our lives who are so broken and have not yet realized You are the great healer – the breaker of bondage – the hope giver – the peace giver – the only way to walk through this world with humility and grace – the best  we can do is to cover them in prayer.  It is not the last resort when we think there is nothing else "we" can do – keep these "opportunities" before us constantly Lord.  Let us see You at work in our lives in ways so clear that all we can do is sing praises to You Lord.  Be with each of us and ours today and through the night and into the tomorrows of our lives here on earth.  In Gratitude.  Amen"
And . . . one more . . .
     Psalms 40:1-5  The Message
I waited and waited and waited for God.
At last he looked; finally he listened.
He lifted me out of the ditch,
pulled me from deep mud.
He stood me up on a solid rock
to make sure I wouldn't slip.
He taught me how to sing the latest God-song,
a praise-song to our God.
More and more people are seeing this:
they enter the mystery,
abandoning themselves to God.
4–5  Blessed are you who give yourselves over to God,
turn your backs on the world's "sure thing,"
ignore what the world worships;
The world's a huge stockpile
of God-wonders and God-thoughts.
Nothing and no one
comes close to you!
I start talking about you, telling what I know,
and quickly run out of words.
Neither numbers nor words
account for you.