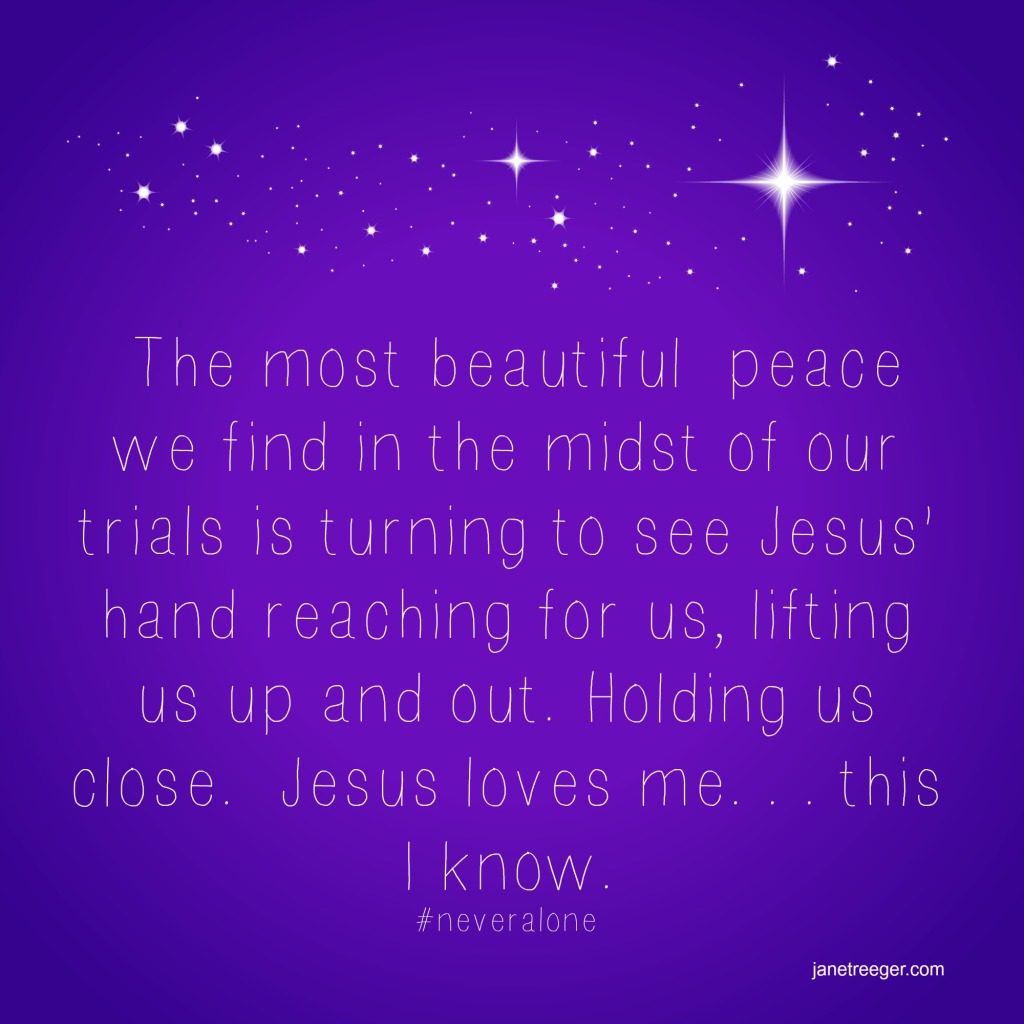 Agh!   Is it really December 31??? That time of year when the reruns of the last 11.99 months begin replaying through our memory log.   The highlights hopefully are well worth the time.   I pray that for you.
But maybe, you too, stumble over some of them and can't fast forward through them quickly enough. It is so easy for that track to get stuck – replaying over and over again.
My personal battle is to place those in the archives – to put them where they can sit there harmless on the shelf but not speak into my tender, fragile heart again. My prayer this morning is to permanently lay them (let's call them burdens) down.
Matthew 11:28-30 "Come to me, all you who are weary and burdened, and I will give you rest. Take my yoke upon you and learn from me, for I am gentle and humble in heart, and you will find rest for your souls. For my yoke is easy and my burden is light."
My current favorite songs soothe my soul in places nothing else can touch. Sleepless nights – I use this small playlist. Napoleon my favorite Frenchie hasn't complained yet.
Bethel Music  –  It Is Well . . .Give Me Jesus . . . Our Father . . . This Is Amazing Grace
And so – the small voices that continually demand my attention are silenced. They are like bad little kids who know just what buttons to push aren't they? Discipline and consistency are the only way – the discipline of laying them at Jesus' feet and consistency is knowing that I can do it again and again – and they grow smaller until they don't speak into my life again – their power over me is replaced with the power of Jesus' love for me. They move to the back of the shelf – left to collect dust – of no value or use to me except to remind me that God has been with me every step of the journey.
So while there is great value in looking back over the past year, I choose to look for how God worked through the madness the world threw at our family. Bizarre moments come to mind – hard to believe – but the part that calms my heart rate and brings a smile to my face is seeing how God worked through each of us and has grown us closer to Him – deeper into His hope and His grace and none of us are the same person we were 11.99 months ago.
And I am grateful.
Hopeful.
And God is the hope . . . the joy in my heart . . . the reason my smile reaches my eyes – coming through my heart . . . the peace that knowing He will be with me through this next year – whatever the journey looks like there and wherever it leads me . . .
Join me in laying it down and letting God lift me out of the ashes of a very broken person who loves Him very much.
Peace . . . it is possible when we walk closely with God . . .
John 14:27 Peace I leave with you; my peace I give you. I do not give to you as the world gives. Do not let your hearts be troubled and do not be afraid.
 Dear Lord,
         Thank You for giving us the avenue of prayer. We praise you Lord that we always have a direct line open to You. Full access. 24/7 We are grateful we can look back over this past year and see You at work in our lives. We look expectantly forward to the next year coming because we know You are there. Forgive us Lord. Protect us Lord. Give us what we need to be the very best servants we can be for You. This world is full of hurting people – we know – because we are those people – but we do not live without hope. Please let us be Your touch to the hurting, Your hug, Your hope, Your peace. Let this be a year we each look at the world around us as the world You see – to know the ways we can share You in every step we take, every conversation we have and love this world like You do. Plant the seed of determination deep within us – grow in us a boldness – warriors when we need to be – peacemakers always as is possible – put us in the places we can bring Your hope Lord. We love You Lord. Amen